Dark Chocolate Cranberry Pecan Cookies
Preheat oven to 350 degrees. Line 2 baking sheets with parchment paper.
In a large bowl, stir together almond meal, coconut flour, baking soda, cinnamon, nutmeg, and coconut.
In a small bowl, melt coconut oil and honey. Pour into the dry ingredients along with 2 eggs and vanilla. Stir until combined. Stir in cranberries and chopped dark chocolate.
Scoop onto lined baking sheets and bake for 10-12 minutes.
[ingredients]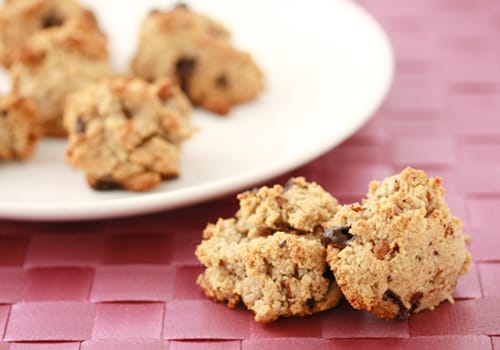 Ingredients
2 cups almond meal
1/4 cup coconut flour
1 teaspoon baking soda
1/2 tablespoon cinnamon; 1/8 teaspoon nutmeg
1/4 cup unsweetened shredded coconut
1/2 cup chopped pecans
1/4 cup coconut oil; 1/4 cup raw honey
2 eggs
1/2 teaspoon vanilla
1/4 cup unsweetened cranberries; 2 ounces dark chocolate, chopped