Dijon Chicken with Roasted Brussels Sprouts
1. Preheat oven to 425°.
2. Heat a large ovenproof skillet over high heat. Add 1 tablespoon oil. Sprinkle chicken with 1/4 teaspoon salt and pepper; add to pan. Cook 3 minutes or until browned. Turn chicken; place pan in oven. Bake at 425° for 7-10 minutes or until done. Remove chicken from pan and keep warm.
3. Heat the same pan over medium-high heat. Add 1/2 cup broth and cider; bring to a boil, scraping pan to loosen browned bits. Reduce heat to medium-low, simmer 4 minutes or until thickened. Whisk in mustard, 1 tablespoon ghee, and parsley.
3. Heat remaining 1 tablespoon oil and 1 tablespoon ghee in a large nonstick skillet over medium-high heat. Add Brussels sprouts and sauté 2 minutes or until lightly browned. Add remaining 1/8 teaspoon salt and 1/4 cup broth to pan. Cover and cook 4 minutes or until crisp-tender. Serve sprouts with chicken and sauce.
[ingredients]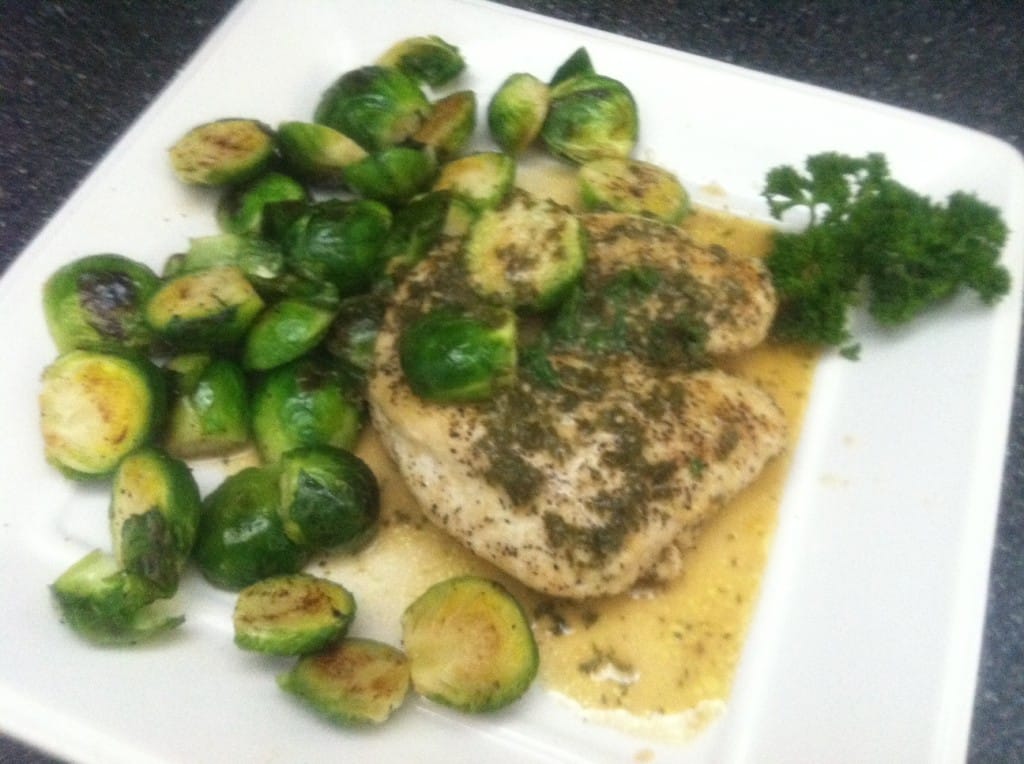 Ingredients
2 tablespoons coconut oil, 4 skinless, boneless chicken breast halves, 3/8 teaspoon salt, 1/4 teaspoon freshly ground black pepper, 3/4 cup chicken broth, divided, 1/4 cup apple cider, 2 tablespoons Dijon mustard, 2 tablespoons coconut oil, 1 tablespoon chopped fresh parsley, 12 ounces Brussels sprouts, trimmed and halved.