Set up a dredging work station because this will get messy. Beat the eggs in a small bowl. Add a tbsp of water to it to make it a little lighter. Set up a bowl/ shallow dish for the coconut flour, and another for the shredded coconut. Have a clean dish with paper towel for the shrimp. Season the shrimp with salt and pepper.
Dredge them in the egg, followed by the coconut flour, then back into the egg, then into the shredded coconut. Two layers taste better, yes, but the extra layer will allow the coconut flakes to adhere stronger. They won\'t fall off as readily, and it just makes for a more concentrated coconut flavor. After the shrimp have all been prepared, melt the ghee in a frying pan.
Leave the heat on low because these will take a few minutes to cook, and you don\'t want to burn the coconut flakes. Drop in the shrimp and allow to cook on each side, roughly 5 minutes. If the pan over heats, add a tbsp of extra-virgin olive oil to bring the temperature down. Drain on the paper towel plate.
These are so dense and coconuty that you don\'t even need a separate sauce. I haven\'t tried adding cayenne to the flour, but I\'m sure it\'d taste great.
[ingredients]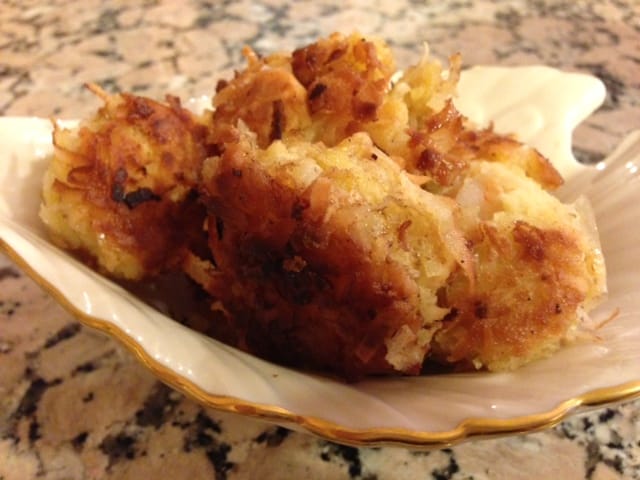 Ingredients
1 pound cleaned, deveined shrimp
3 eggs
1 cup coconut flour (+ extra)
2 cups coconut flakes (+ extra)
5 Tbsp Ghee (Paleo Butter)
Sea salt & pepper