Duck Stroganof with Sweet Potato Gnacchi
A great way to cook those ducks 🙂
There are a ton of recipes for Paleo Sweet Potato Gnocchi.  Me, I just mix sweet potato, egg, almond flour, tapioca starch and coconut flour till I get a dough.  Simple right?  These are grand to eat by themselves or with other dishes that would usually be eaten with a noodle.  I like them pan fried with coconut oil, but they can be boiled too.
You can thicken the sauce up a tad with a bit of tapioca starch.  Add only a little of this as it thickens quickly.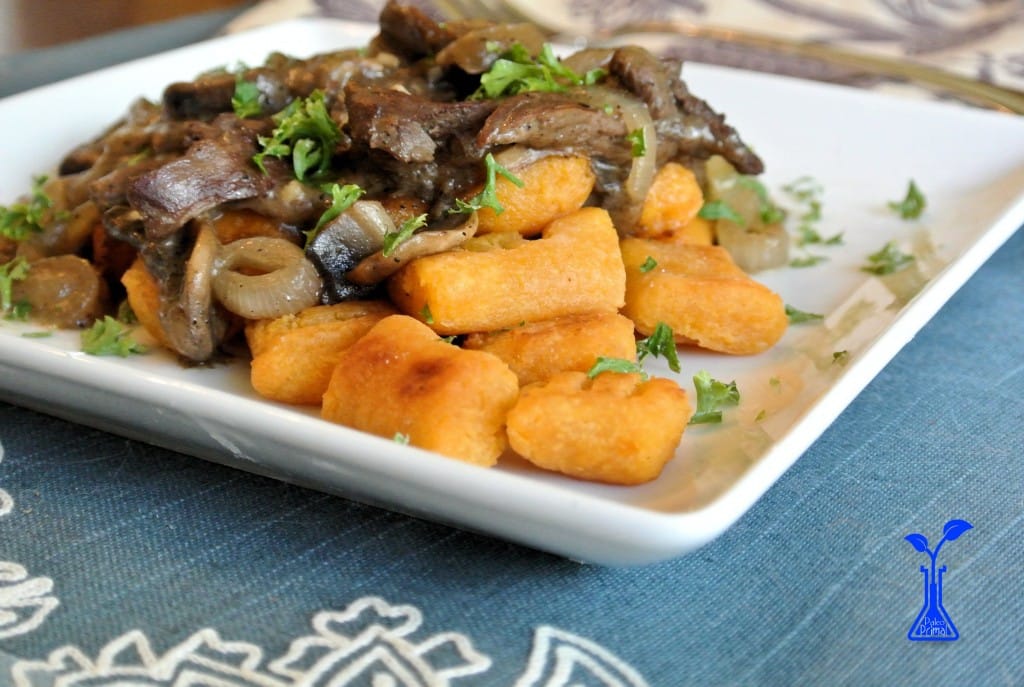 Ingredients
3-4 Duck Breasts
8 oz mushrooms, sliced
1-2 medium Onions, sliced
3-4 garlic cloves, minced
6-7 tbsp grassfed butter or ghee
1/2 cup beef broth
3/4 full fat coconut milk
2 tbsp chopped parsley
salt, pepper, and garlic powder for seasoning the duck
Directions
Heat cast iron skillet with 2 tbsp butter
Season duck breasts with salt, pepper, and garlic powder. Brown in the butter till cooked through. Take breast out of the pan and let rest.
Melt rest of butter. Add garlic till just fragrant. Add Onions and Mushrooms and sauté.
Add Beef Broth and Coconut milk and simmer over medium heat. Add Parsley.
Shred the duck meat and then add to the simmering pan.
Simmer till sauce reduces. Serve and eat.