Found this on: http://nomnompaleo.com/post/17812627326/the-healthy-gluten-free-lifes-dutch-oven-pork-roast
Preheat oven to 325 F with the rack in the lower middle.
Dry the roasts with paper towels and iberally season with salt and pepper.
Heat the coconut oil in a large Dutch oven over medium high heat.
Sear the roasts and brown on all sides.
While the pork is browning, add the onion, garlic, extra virgin olive oil, apple cider vinegar, honey, oregano, chili powder, rosemary, granulated onion, cumin, salt, and some freshly ground black pepper into a food processor.Pulse until blended.
When the pork has finished browning, tuck both of them back into the Dutch oven and remove the pot from the heat.
Add the sauce to pot and add the water. Cover the pot…and pop it in the oven for 2.5-3 hours or until the pork is fork tender.
Shred with two forks and dig in.
[ingredients]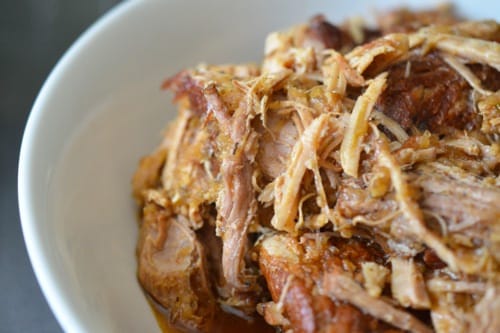 Ingredients
5 lbs pork roast
Sea salt Freshly ground black pepper
2 tbsp coconut oil 3 tbsp olive oil
1 yellow onion roughly chopped
3 garlic cloves peeled
3 tbsp apple cider vinegar
3 tbsp honey
1 teaspoon dried oregano 1 tsp chili powder 1 tsp dried rosemary
2 tsp granulated onion 1 tsp ground cumin
1 tbsp Kosher salt 3 cups of water