Easy Paleo Sausage and Peppers
I make this dish often at my larger casual parties and there is never enough. This evening I made two large batches for 22 people and we still had three other hefty portions of protein on the BBQ, and these are still being gobbled up. This is really a very easy paleo sausage and peppers recipe which takes only 15 minutes to prepare if you do one package and if you do 6-8, like I did, it took me about 40 minutes in prep and the rest of the time in the oven to heat up and blend flavors a bit more. You can make it days ahead and then pop it in the oven later. Easy is my "go button"! I just love an easy paleo recipe!
I love the fatty and smoky flavor of a variety of sausages. The sausage grease is delicious and since I buy as healthy and organic as I can, I feel good about eating and serving this and my body loves it too.
I always use a variety of sausages when I make this so the juices all blend and mingle and lend to one another in the ultimate explosion of protein flavors, coating the peppers perfectly. I tend to use mostly beef and pork when I am doing the big dinner plan. These protein sources offer a variety of usages and work very well together. I am sure chicken and/or turkey will do well too. Maybe add a tad of smoke flavoring if you do not get that from the actual sausage ingredients as they cook up. Delicious when served alongside my paleo mashed cauliflower.
Here are a few recommendations if you do not have a local place to purchase organic and fresh made. Most health food stores will carry the better quality sausages as well: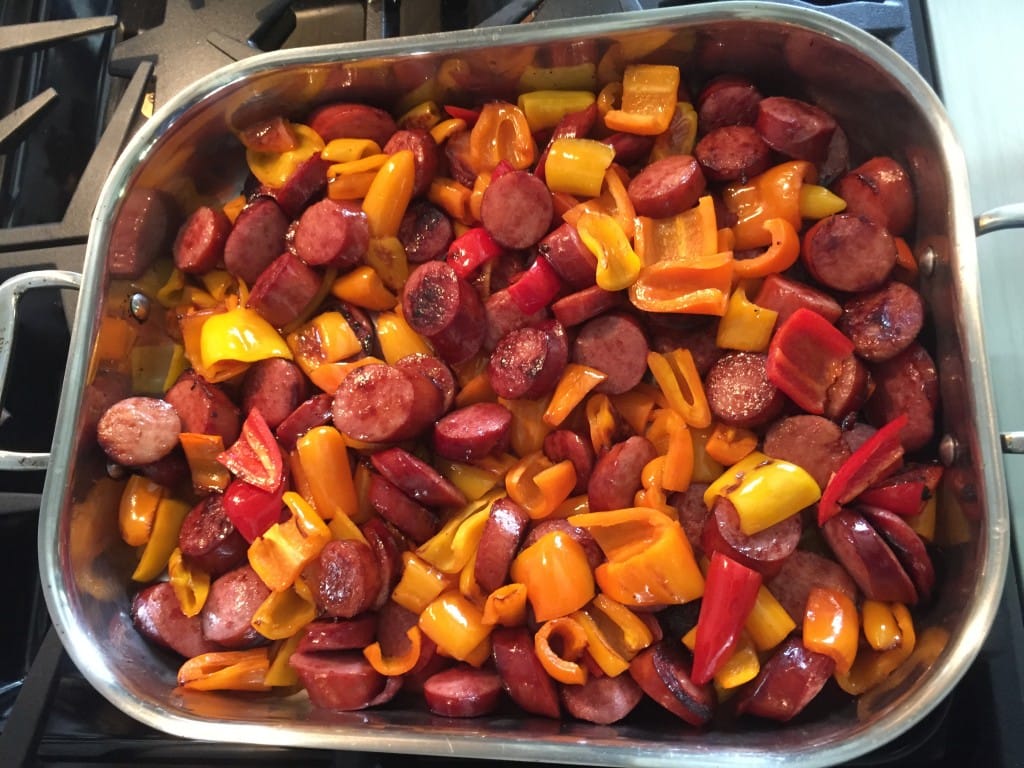 Ingredients
1 orange pepper
2 yellow peppers
2-3 packages of sausages (12-18 ounce packages)
2-4 tablespoons Olive oil
Note: Green peppers are okay to use as well.
Directions
Slice sausage 2-3 inches in thickness, diagonal cut is fine.
Clean and then cut the peppers.
Cut into 1-2 inch pieces.
Heat large skillet with olive oil.
Add sausage 2 cups at a time so as not to crowd.
Stir now and then until they appear a tad bit charred.
Add more oil only as necessary.
Remove and do this with all of the sausage.
Set all aside on paper towels to drain and pat with paper towel lightly.
Add peppers to the same oil until they start to soften.
Place all in a large, heat-proof skillet.
Cover with tin foil.
Place in oven for 30 minutes.
Remove and serve.
Enjoy!
NOTE: can be served as a protein side to main dish; excellent for BBQ type meals and sit-down dinners.
NOTE: Can be prepared days in advance. If so, place in fridge covered. Remove about 5 hours before eating time. Place in preheated oven at 350F for 40 minutes.