Tomatillo salsa, also called salsa verde or green sauce, has a bright, refreshing flavor that is both spicy and sweet. This version is made with raw tomatillos that give it a bright green color, as opposed to the roasted tomatillo variety, which has a slightly more olive hue. The salsa can be made and eaten immediately, but for maximum (and more traditional) flavor, let it meld overnight in the fridge.
Note: I highly recommend using a food processor, though you can dice it up on a cutting board with a juice well and mix together with the liquid.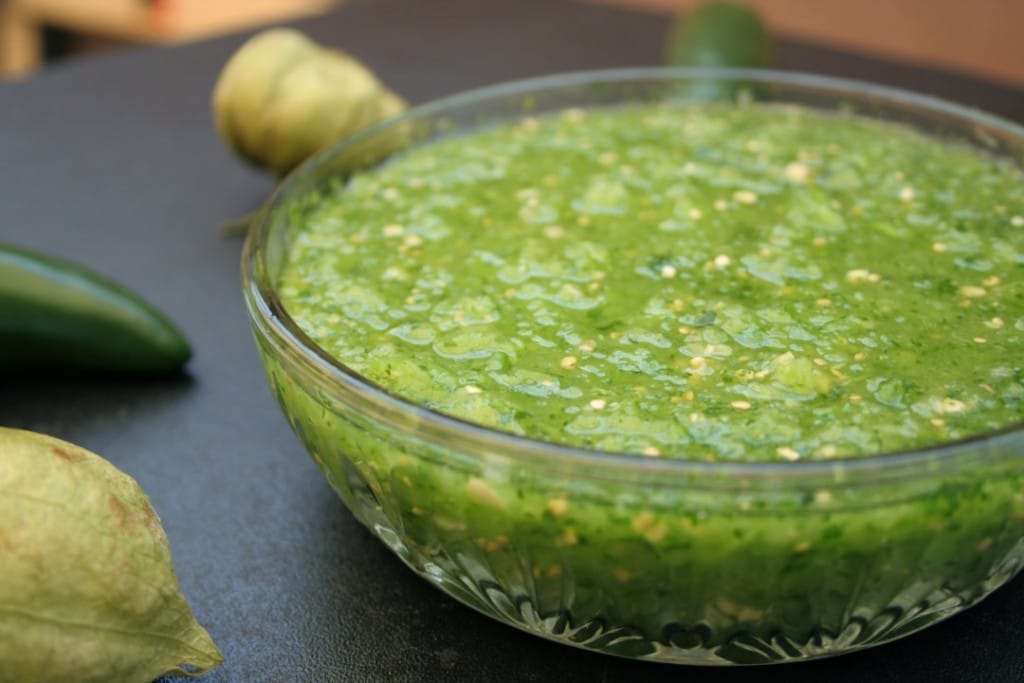 Ingredients
1/3 cup diced white onion
8-10 medium tomatillos, husked
1- 1 1/2 fresh medium jalepeños
small bunch fresh cilantro leaves (5-10 sprigs)
1 clove garlic
pinch of salt
water, if needed
Directions
Mince onion in the bowl of your food processor. Measure out 1/3 cup and save the rest for a later use. Set aside.
In the bowl of your food processor (no need to wash between steps) pulse the remaining ingredients together. When chunky, give it a taste to make sure it's spicy enough and add more liquid if needed. If so, puree. It will be slightly chunky when finished.
That's it! For maximum flavor, let meld overnight in the fridge.