Egg omelette with chorizo, tomatoes & red peppers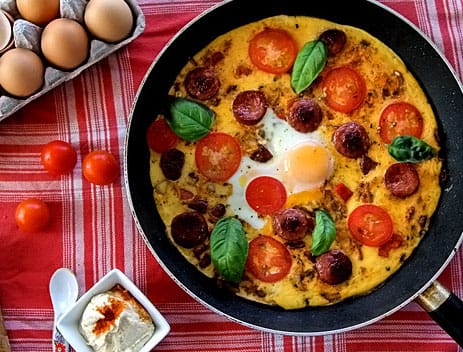 Ingredients
6 eggs
1 chorizo sausage
1 white onion, chopped
1/2 large red bell pepper (capsicum)
1 Roma tomato, sliced thinly
1 garlic clove, peeled and diced finely
1/2 tsp sweet paprika
1 tsp ghee or 2 tbsp olive oil
Fresh basil
Sea salt and pepper
Directions
Heat a large frying pan with a little ghee or 1 tablespoon of olive oil.
Take the skin off chorizo and slice half of the sausage into slices and chop the other half into small cubes. Fry the round slices on both sides first, remove to a plate with some paper towel.
Chop and slice onion, garlic, and red pepper. Add to the same frying pan with a little more ghee or olive oil and the rest of chopped chorizo sausage. Cook on medium heat until softened, add paprika and stir.
Whisk 5 of the eggs with 1/2 teaspoon of sea salt. Make sure onion and chorizo mixture is spread evenly before pouring the eggs over the whole surface.
Place tomato slices and pre-cooked chorizo slices on top. Make a little well in the middle and crack the last egg, keeping the yolk in tact. Cover with a lead and cook until the top layer of the omelette is 80% cooked. Take the lead off and leave on the heat for another minute or so. You know it's ready when most of the egg mixture is cooked through, it's ok if it feels a little undone on the top as it will keep cooking on your plate.
Grind some black pepper and scatter a few fresh basil leaves before serving.