Eggplant and spinach coconut curry
Eggplant with spinach coconut curry, it's one of the best recipes I've made so far using aubergine and spinach. The combination of these ingredients – eggplant, spinach,coconut milk and spices – is fabulous!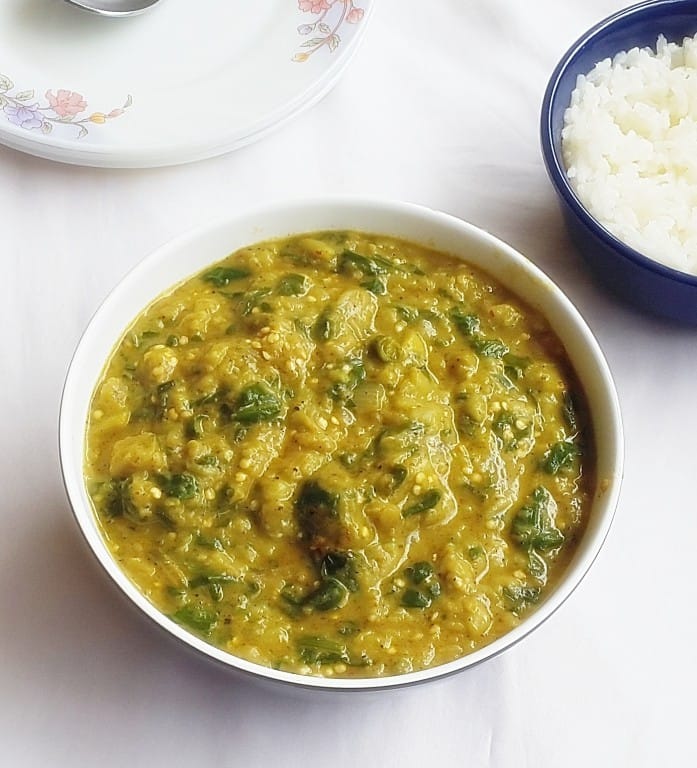 Ingredients
2 large eggplants;
1 onion, chopped;
1 tbsp grated ginger;
1 tsp crushed garlic;
3 cups chopped spinach;
1 green chilli, chopped;
1 cup coconut milk (250 ml);
½ tsp turmeric powder;
1 tsp ground pepper;
1 tbsp garam masala;
½ tsp salt, more or less as per taste;
oil.
Directions
Start by roasting the eggplants on an open flame or in the oven, until cooked/soft. Remove the aubergines and immerse them in a bowl of water to cool down.
Peel the skin from the roasted and smoked eggplant and chop the eggplant finely or mash it.
Heat some oil into a deep frying pan. Bring onion and cook until soft.
Add ginger, garlic and chopped green chilli and stir fry for 2 minutes, on medium heat.
Put all the powder spices and salt, stir fry for another minute.
Now add coconut milk and bring it to boil. Reduce the flame and add spinach. Cover and simmer for 10 minutes, until the spinach gets soft.
Lastly, add chopped/mashed eggplant, stir and let it simmer 5 minutes more. Serve warm with boiled rice or bread.