From my food blog Monkeyfood.net (mostly in Finnish).
Ps. Works great also as a "quattro formaggi": try using four different cheeses as toppings.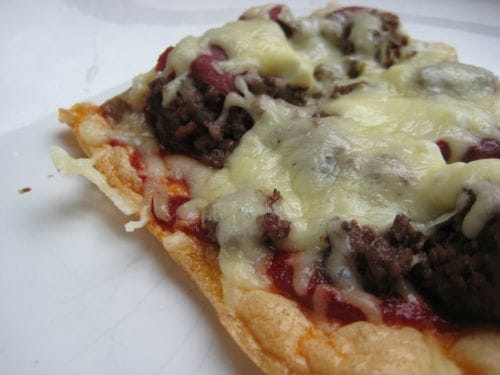 Ingredients
5 Organic eggs
Tomato sauce
Toppings of your choice
Cheese
Directions
Separate egg whites from yolks. Beat the whites until they form a firm foam that sticks in the bowl when turning it upside down. Mix the yolks with a fork in a separate dish just to break them a bit, add some salt. Fold the yolks into the egg white mixture. Cover a baking tin with baking parchment or grease it generously with butter or oil. Spread the mixture and bake in 200 celsius for about 10 to 15 minutes. Prepare your tomato sauce and toppings meanwhile.
Spread the tomato sauce on the baked crust and add toppings of your choice. I\'ve found that \"drier\" toppings work better than some more moist. Such toppings as salami, ham, mince meat, cooked eggplant slices and mushroom work well. Preferably use thicker tomato sauce as well to avoid making the crust go gooey (I typically just mix some puré with olive oil and spices).
Add cheese and bake for some 15 to 20 minutes more. Surprisingly, this doesn't taste like an omelette but just delish! Tried it on several non-paleo friends.
Good to go when warm and at least as tasty when cold.