Flourless Thin Mint Cookies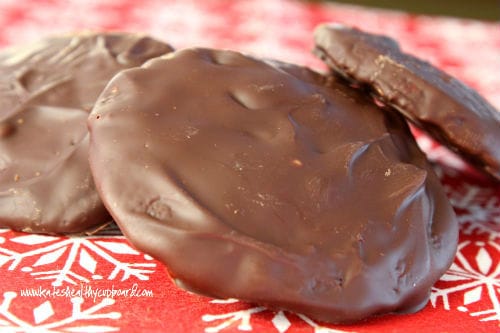 Ingredients
1 1/2 -2 pastured egg whites (depending on egg size)
1/3 -1/2 cup cocoa powder (depending on how large eggs are)
1/2 – 3/4 cup granulated sweetener (I used 3/4 cup Swerve for no sugar option)
1/4 tsp peppermint flavor*
Dash of sea salt
Chocolate coating: 1/2 cup dark chocolate chips (use Enjoy Life Chocolate Chips or Chunks for dairy free option)
1/8 tsp peppermint flavor
Directions
Whisk the egg whites, stir in the cocoa powder, sugar and 1/4 tsp peppermint extract and salt. The batter should be brownie batter like consistency. Add more cocoa or sweetener if it needs to be thicker.
Spoon out about 2 tablespoons worth of batter onto parchment lined cookie sheet. The batter will spread just slightly when baked, so spoon and swirl the batter into desired cookie size.
Bake at 350 for 12-14 minutes.
Let the cookies cool and harden for a few minutes before you try to remove them from the parchment. Place cookies in the frig or freezer to harden up and cool off before coating in chocolate.
Chocolate Coating: Melt the chocolate chips and peppermint flavor in a double broiler (glass bowl over a pot of boiling water).
Dip each cookie in the melted chocolate, use a fork to toss and turn the cookie until fully coated. Store in the refrigerator in an airtight containerNotes: *I used Simply Organic Peppermint Flavor in this recipe. Other brands of mint or peppermint extracts may not be as strong and you may need to use more to taste.