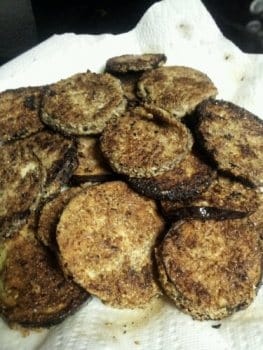 Ingredients
1 eggplant
1 egg
3/4 c almond meal
1 tsp sea salt
1/2 tsp pepper
1 tsp garlic powder
Olive oil
Directions
Slice the eggplant into pieces that are around 1/8″ thick.
Whisk an egg.
Mix together the almond meal, salt, pepper, and garlic powder.
Lightly coat the eggplant pieces in egg.
Coat them with almond meal mixture.
Heat olive oil in a skillet over medium-high heat. Place the coated eggplant pieces in the oil and brown both sides.