Garlic Balsamic Pork Tenderloin
In a medium bowl, whisk together garlic, oregano, thyme, rosemary, salt, pepper, balsamic vinegar, and olive oil.
Cut the fat off of the tenderloins and set them in a deep dish. Pour the marinade over top, flip the tenderloin around to coat, cover the dish, and marinate in the refrigerator for at least 1 hour (and up to 24 hours).
Preheat oven to 375 degrees. Remove tenderloins from the marinade and set in a roasting pan. Cover the pan and roast for 40 minutes, or until a meat thermometer reads 155 degrees. Remove from oven and let them rest for 5-10 minutes before slicing.
[ingredients]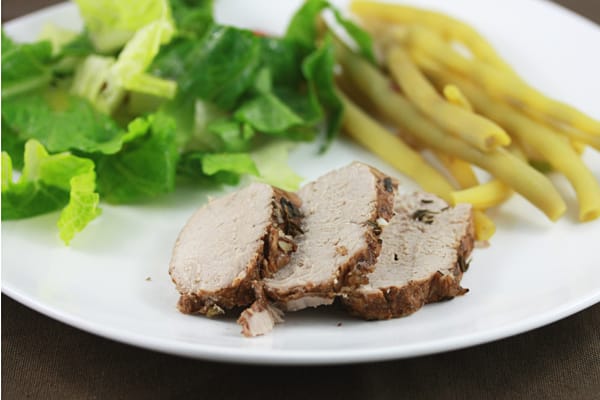 Ingredients
10 garlic cloves, coarsely chopped
1 tablespoon fresh oregano, finely chopped
1 tablespoon fresh thyme, finely chopped
1 tablespoon fresh rosemary, finely chopped
1 teaspoon salt
1/2 teaspoon pepper
1/4 cup balsamic vinegar
1/2 cup olive oil
2x 1 pound pork tenderloins