If your prawns are frozen, thaw them and remove the shells and/or tails. Lay on a paper towel to let them dry out a bit. (Dry prawns will take on the egg batter better, which in turn helps the coconut blend stay put.)
The dry ingredients–shredded coconut, arrowroot flour, ginger, garlic powder, onion powder and salt–get combined first. Then in a separate bowl, whip together the eggs and coconut aminos.
Dredge each prawn in the egg batter first, then toss it around in the coconut blend. I like to lay the egg-drenched shrimp in the coconut mix, bury it, press the coconut into the shrimp gently, then lift and give it a shake. It usually covers the shrimp evenly without clumps. Be sure to shake off the excess so it doesn't fall off during frying and junk up the pan.
Prep the prawns first, then move to frying. These cook up quick and since you're working in batches, there isn't much time to dredge the prawns fresh for each round.
Heat a broad sauté pan to medium-high and add a couple heaping spoonfuls of coconut oil. We need enough to reach about a quarter of the way up the prawn. I had to add more oil after the second batch, but thankfully never had to clean the pan and start over–there's that proper shaking paying off!
So work in batches, lightly frying each side. It works perfectly actually–by the time the coconut coating is nicely golden the prawn is ideally cooked inside. Set cooked prawns aside on a paper-towel lined plate.
These are absolutely fabulous on their own with any number of Paleo-approved dipping sauces. I decided to break out my Asian noodle secret weapon tonight, Shirataki noodles, and smother them in a couple spoonfuls of Well Fed's Sunshine Sauce, topped with fresh scallions. With a few of these prawns on top, it made for a perfectly Paleo dinner — 100% on track!
[ingredients]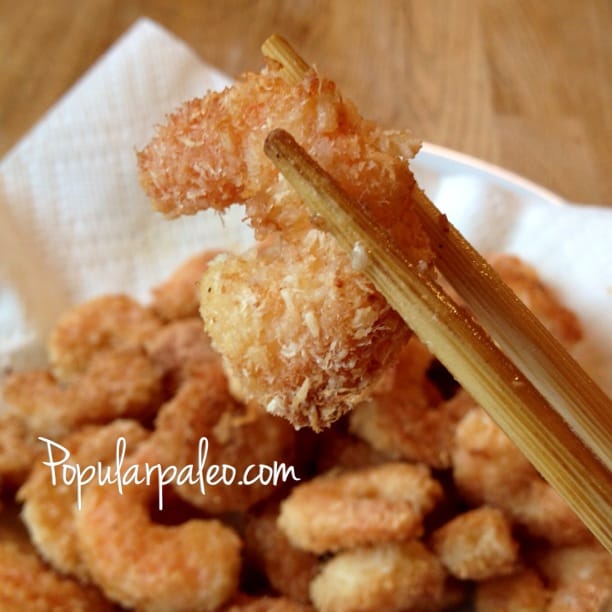 Ingredients
1 pound prawns, raw with shells and tails removed (31-40's)
1 cup finely shredded coconut, unsweetened of course
1/4 cup arrowroot flour
1/2 tsp ground ginger
1/4 tsp garlic powder
1/4 tsp onion powder
1/2 tsp kosher salt (use less with finer grain salt)
2 eggs
1 TBSP coconut aminos
Coconut oil for frying