Ginger Garlic Meatballs with Dipping Sauce
Great recipe for a hearty dinner or snacking for a crowd.  Lots of flavor and completely Paleo.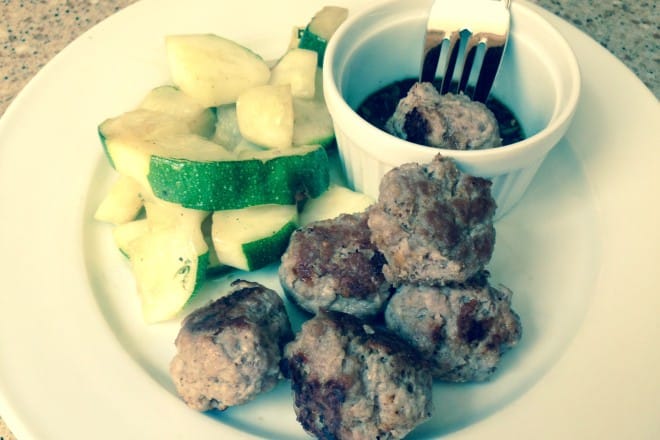 Ingredients
2 lbs ground pork
2-3 tsp sea salt and fresh ground pepper
2 tsp coconut aminos (soy sauce alternative)
2 tsp fish sauce
3-4 tsp grated ginger (use a micro grater )
1 clove garlic minced
3 tbs almond butter
coconut oil for pan
2 tbs coconut aminos
2 tbs coconut vinegar (or rice wine vinegar)
1 tbs fresh basil minced
1 tbs fresh mint minced
optional 1-2 tsp honey
Directions
In a large bowl, spread out your ground pork and sprinkle seasonings - sea salt, pepper, ginger, and garlic - over the meat.
Add your almond butter and mix thoroughly with your hands.
Make a small patty and cook it in a well oiled flat bottomed skillet. Should take 2-3 minutes per side over medium heat. Test and adjust your seasonings if needed.
Make 1" meatballs with your hands.
Clean your skillet and re-oil it. Heat over medium - high heat careful to keep it low enough to prevent your oil from smoking.
Cook meatballs about 4 minutes per side until they are 160 degrees. Depending on the evenness of your heat this can take a total of 8 minutes to 12 minutes. I used two pans to cook all 2 lbs of meatballs at one time.
Let meatballs cool on a serving platter and mix next 5 ingredients to make your dipping sauce.