Grain-Free California Rolls [AIP Friendly]
Riced sweet potato is steamed to create a perfect substitute for sticky sushi rice. This can be used as a base recipe for any sushi combination your heart desires. See the full post & many more Paleo & AIP recipes at http://www.grazedandenthused.com
Notes: You can use this as a base recipe for any AIP-Friendly or Paleo sushi roll. Here are a couple combinations to get you started. Ahi Tuna + Cucumber, Beef + Cilantro, Chicken + Mango, Sardines + Homemade Mayo.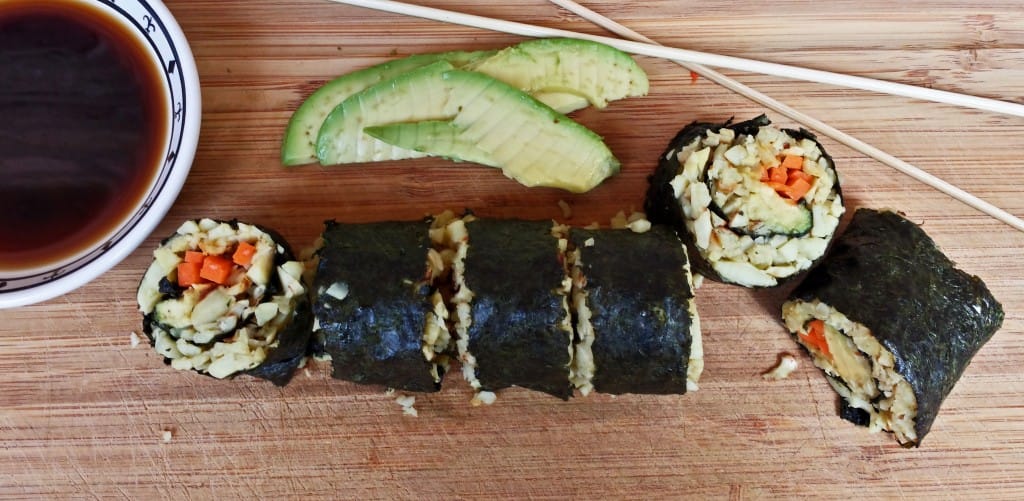 Ingredients
1 sheet nori
1 small Japanese sweet potato (white flesh), peeled
1 tsp coconut oil
¼ avocado, sliced thinly
½ carrot, peeled and julienned
Coconut aminos for serving
Directions
Roughly chop sweet potato. Place in blender or food processor and pulse until diced into rice-sized pieces.
Heat coconut oil over medium heat in a large pan. Add sweet potato rice, stir to coat in oil, then cover and let steam for 2-3 minutes until just cooked through. Spread on a plte, and let sit in fridge for 15 minutes to cool down enough to handle.
Place nori sheet on a flat surface. Spread sweet potato rice to cover nori. Leave a ½ inch space on the side closest to you, to make rolling easier. Press down with the back of a spoon.
Layer avocado slices and carrot horizontally across the sweet potato rice, no more than 1-inch thick. Sprinkle with sea salt or dulse.
Roll the sushi starting with the side closest to you until the seam side faces down. Slice with a sharp, serrated knife. Serve with coconut aminos for dipping.