Grain Free Chicken Fried "Rice"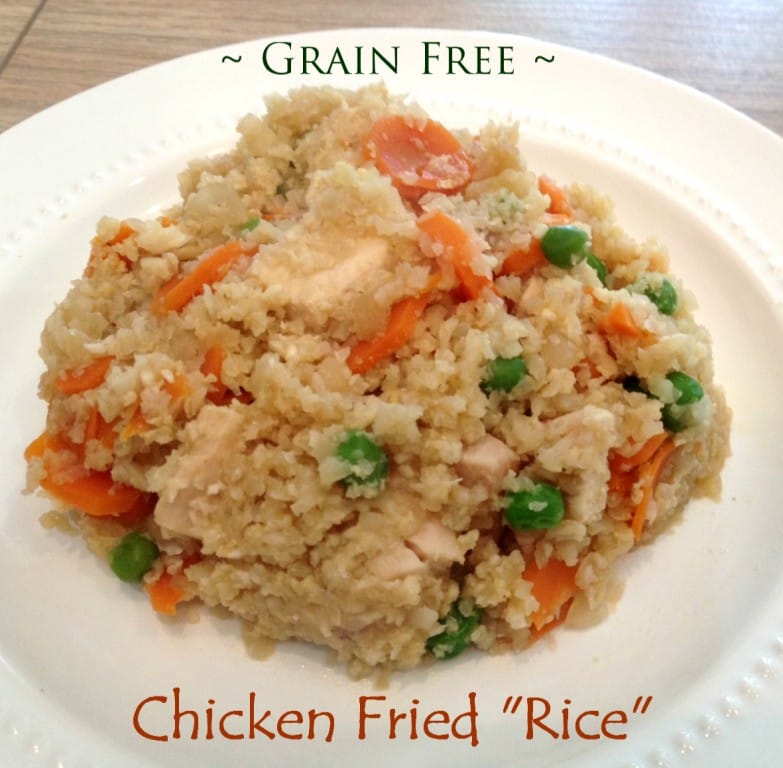 Ingredients
4 tablespoons light olive oil or grapeseed oil
2 or 3 chicken breasts, precooked and cubed
4 or 5 carrots
1 small onion
2 teaspoons minced garlic
1 head of cauliflower, grated in food processor
2 beaten eggs
Half of a small bag of frozen peas, or about 1 cup
5-6 tablespoons of gluten-free tamari or bragg's liquid amino's
1 tablespoon coconut sugar (optional)
Directions
Using a food processor or grater, shred the cauliflower so it looks like rice.
Chop up your onions and carrots, sliced thin. (A mandolin works great for the carrots if you have one.)
In a small bowl stir the soy sauce, coconut sugar (if using), and garlic together.
Heat a large skillet over medium heat and add the oil.
Add onion and carrots and saute over medium heat for about 5 minutes.
Then add the cauliflower, peas, and the soy sauce mixture; cook for about 10 minutes.
Then add the chicken and the scrambled eggs, and cook a few more minutes until the eggs are cooked through.