Grain-Free Lemon Poppyseed Muffins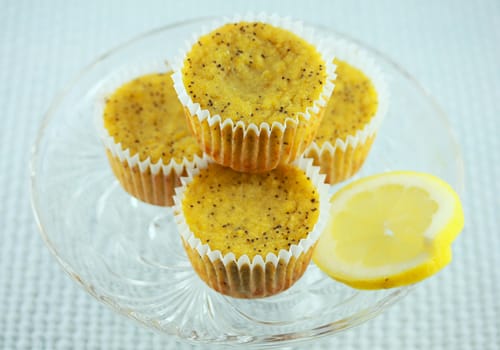 Ingredients
6 eggs
1/2 teaspoon vanilla
2 lemons, juiced
1/4 cup coconut oil
1/4 cup honey
1/2 cup coconut flour
1/2 teaspoon baking soda
zest from 2 lemons
1/2 tablespoon poppy seeds
Directions
Preheat oven to 325 degrees. Line a muffin pan with 12 liners.
In a large bowl, whisk eggs, vanilla, and lemon juice. Melt together the coconut oil and honey; pour into egg mixture and whisk to combine.
In a small bowl, stir together coconut flour, baking soda, and lemon zest. Pour the dry ingredients into the wet ingredients and whisk until smooth. Stir in poppy seeds.
Fill each muffin cup with a scant 1/4 cup of batter. Bake for 20-25 minutes, until a toothpick inserted into the center comes out clean. Cool for 5 minutes in the pan and then remove to a rack to finish cooling.