Grain Free Mexican Wedding Cookies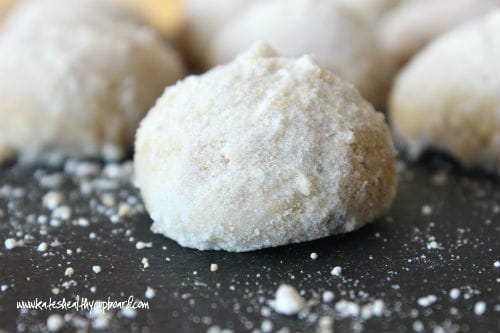 Ingredients
1 1/2 cups almond flour*
2 tbsp arrowroot flour
2-3 tbsp granulated sweetener (I used Swerve for no sugar option)
4 tbsp (1/4 cup) grass-fed butter, softened (Ghee or coconut oil should work)
1 tsp vanilla extract
1/4 tsp sea salt
1/3 cup pecan pieces, toasted
Sugar Coating: 2-3 tbsp powdered maple sugar or coconut palm sugar (I used 2 tbsp Swerve and 1 tbsp maple sugar only because it's lighter in color compared to coconut sugar)
Directions
Place the pecans in a dry skillet over medium high heat to toast the nuts, set aside to cool Place the flour, arrowroot flour, sweetener, butter, vanilla and salt in a food processor and combine Add the cooled pecans to the mixture and pulse until nuts are mixed into dough. Dough will seem a bit crumbly, but will mashed together just fine for baking
Place the dough into the frig for 15-20 minutes to make sure the butter didn't get too soft. This will keep the cookies in a ball when baked.
Roll dough into 1 to 1 1/2 inch diameter balls and place on a parchment lined cookie sheet Bake at 350 for 18-20 minutes or until golden brown Let the cookies cool for about 5 minutes before you try to coat them in the powdered sugar or they will crumble. Don't wait too long or sugar won't stick to the cookies, you want them to still be warm
Place the powdered sugar in a bowl (you can powder any sugar in a blender or coffee grinder)
Using a spoon, place each cookie into the mixture and spoon sugar over the top to coat. Once you have done all of the cookies, coat again a second time if you prefer sweeter cookies
Let cookies cool completely or they will crumble. Store in an airtight container. I prefer glass jars and refrigerate all of my baked goods. Ziploc bags ruin grain free goodies in my opinion, makes them moist or soggy
Quick notes*I used Honeyville Almond Flour, but Bob's Red Mill should work fine with this recipe. A friend decided to try this recipe with pecan flour that she made herself in a food processor. It's hard to get a fine flour with a food processor, but it worked for her even with the not very fine pecan flour…and she said they were awesome!!!If you want to try Swerve or need to order more, use coupon code KATE10 for a 10% discount.