Grain-Free Pumpkin Cheesecake
Preheat oven to 400 degrees. In a food processor, pulse together almond meal, pecans, coconut, cinnamon, and nutmeg. Pour into bowl and mix in melted coconut oil and honey. Press into a the bottom of a springform pan. Bake for 20 minutes; until golden brown. Remove from oven and cool.
Reduce the oven to 325 degrees. Using a mixer, beat cream cheese until smooth; add maple syrup and combine. Beat in eggs, one at a time, combining thoroughly between each egg. Scrape down the sides of the bowl occasionally. Stir in pumpkin puree, greek yogourt, pumpkin pie spice, and vanilla.
Pour into crust and bake for 60-70 minutes. When finished, the cheesecake should be slightly jiggly but firm. Cool completely, overnight, before serving.
[ingredients]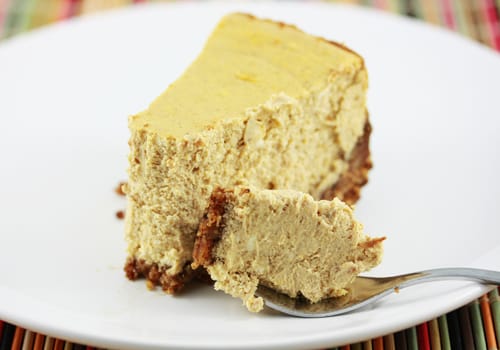 Ingredients
2 cups almond meal; 1/2 cup unsweetened shredded coconut
1 cup pecan halves
1 tablespoons cinnamon; 1 teaspoon nutmeg
1/2 cup coconut oil, melted; 1 tablespoon honey
3x 8 oz packages cream cheese, room temperature
1/4 cup maple syrup; 4 eggs
1 cup pumpkin puree; 1/3 cup greek yogourt
1 tablespoon pumpkin pie spice; 1 teaspoon vanilla