Grain-Free Raspberry Shortcake
A soft, dense grain-free shortcake with a tart and sweet raspberry filling, topped with homemade whipped cream and cacao nibs…a perfect birthday treat or great anytime!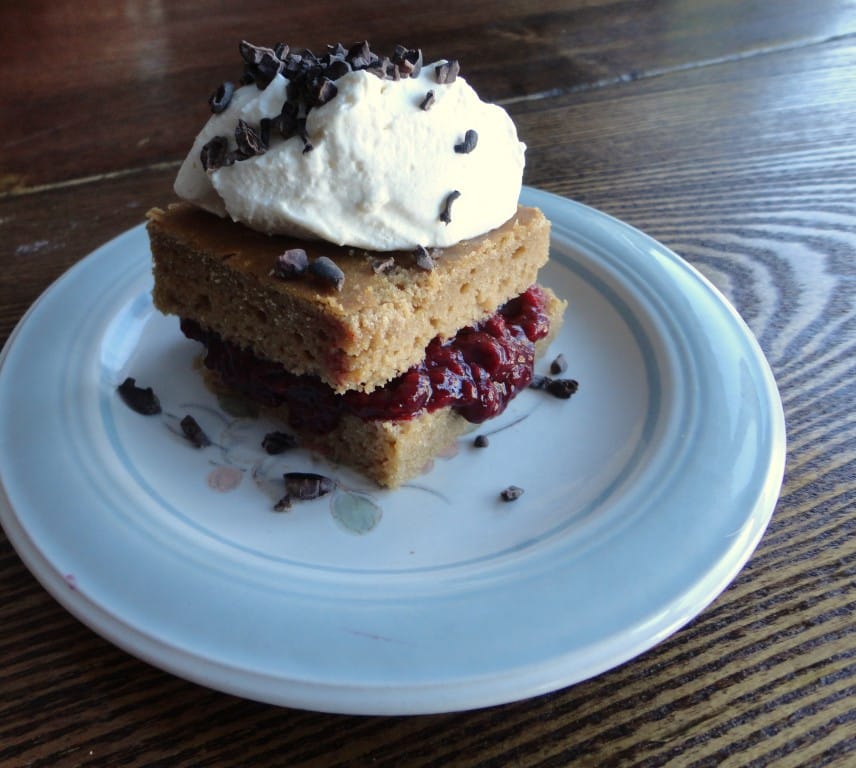 Ingredients
1 cup arrowroot flour
6 Tbs coconut flour
3/4 cup coconut sugar
3/4 tsp baking soda
1/4 tsp sea salt
1 whole egg
1 tsp vanilla
2 Tbs melted coconut oil
2 egg whites, beaten to soft peaks
1/4 cup plain yogurt
1/3-1/2 cup water, as needed
1 tsp lemon juice
4 cups frozen or fresh raspberries
2 Tbs lime juice
6 Tbs coconut sugar
2 Tbs arrowroot powder
1 pint heavy whipping cream
1/2 tsp vanilla extract
2 tsp honey
Cacao nibs or mini chocolate chips to garnish
Directions
Preheat oven to 350 F. Lightly grease a 9" square or round pan, or a mini bundt pan.
In a medium bowl, combine the arrowroot, coconut flour, sugar, baking soda and salt. Stir to combine.
Create a well in the center of the dry ingredients and add the egg, vanilla, yogurt, coconut oil and 1/3 cup water. Mix well to combine the wet and dry ingredients.
Gently fold in the egg whites. If the mixture is too thick (should be slightly thicker than pancake batter), add a few tablespoons of water to thin.
Mix in the lemon juice.
Pour into prepared pan and smooth to create an even surface.
Bake 25 minutes. Check with a toothpick or sharp knife--if the toothpick comes out clean, it is done. If not, add 5-10 more minutes until the middle is done.
Remove from oven and let cool before slicing and serving.
To make the raspberry filling: combine raspberries, lime juice, 6 Tbs coconut sugar and 2 Tbs arrowroot in a medium sauce pan. et mixture simmer 20-30 minutes, stirring very regularly, until thickened. The filling should be slightly thinner than preserves. Serve warm with the shortcake.
For the whipped cream: Using a hand blender (or whisk if you have the time), whip the cream with the vanilla and honey until thick and it has stiff peaks--with a hand blender, this should take about 30 seconds. Refrigerate until ready to use.
To assemble: Slice shortcake in half, width-wise. Fill with 2-3 Tbs raspberry filling. Place top half of shortcake on top of the filling. Top with a big dollop of whipped cream. Garnish with cacao nibs or mini chocolate chips and serve.