Grass-fed Sirloin Tip Roast Beef
Preheat oven to 325F.
Mix desired herbs together with coconut oil and massage over roast. Place roast in a roasting pan with chopped vegetables, wine/broth, and water and place in the oven.
As this cut can dry out easily, it\'s recommended that you baste it every 20 minutes. A bit of a daunting task, but well worth it in the end. I also covered it with foil after the first hour to prevent the surface from over roasting.
This 4 lb roast took roughly an hour and forty minutes, but the general rule for roasting beef is 18 – 22 minutes per pound. Roast will be done when it reaches an internal temperature of 130 degrees using a meat thermometer. Because this cut is generally leaner, it\'s best served medium rare.
Enjoy! http://primalkat.blogspot.com/2012/02/grass-fed-sirloin-tip-roast-beef.html
[ingredients]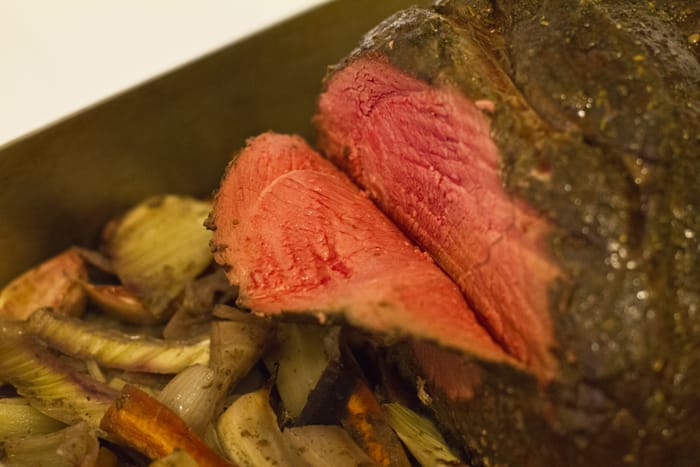 Ingredients
1 4 lb grass-fed sirloin tip roast
1 onion, cut in 6
6 cloves of garlic, whole
3 carrots, peeled and chopped
1 fennel, sliced and chopped
1/3 cup red wine or broth
1 cup water or additional broth
1 tbsp coconut oil
Herbs: rosemary, parsley, marjoram or change to your liking