Greek Turkey Kabobs w/ Homemade Tzatziki Sauce
Bright and healthy recipe for any party.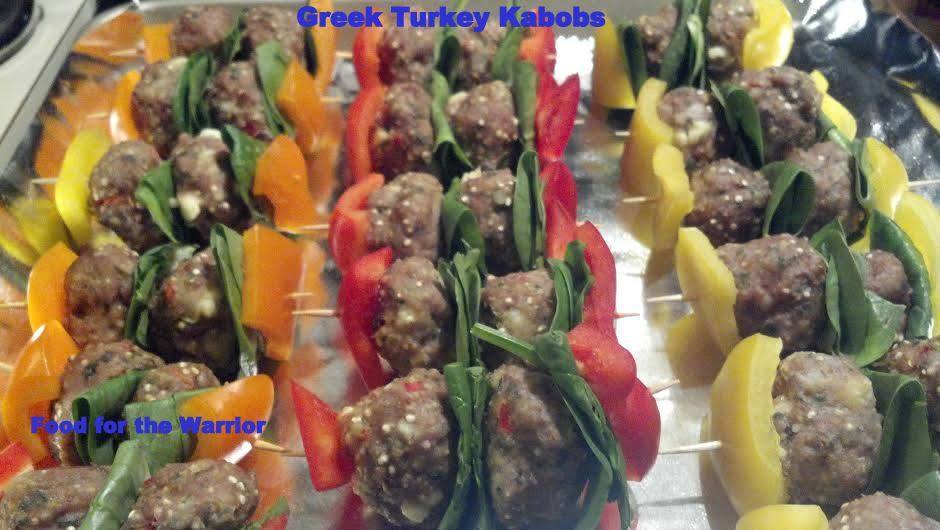 Ingredients
1.5 lbs of 93% Ground Turkey Breast
Assortment of Peppers, diced into chunks
1/4 cup of Egg whites
1/2 cup of Onions, finely chopped
1/2 cup of Quinoa, uncooked
1/2 cup of Feta cheese, crumbled (optional)
1/2 cup of Parsley, finely chopped
40 Spinach Leaves
2 Tbsp of Oregano, dried
Tbsp of Basil, dried
1 Tbsp of Garlic, dried
1 tsp of Salt
1 Spray of Amino Acid
Directions
DIRECTIONS: Pre-heat oven to 375. In a large bowl combine all the ingredients except the feta, spinach and the peppers. Mix well making sure to incorporate it all together. Fold in the feta.
Form the meatballs into bite size pieces, this will make 18 meatballs. Bake the meatballs on a cookie sheet lined with foil, bake for 12-15 minutes until brown.
Let cool for 15 minutes, meanwhile cut the peppers to 1 inch pieces set aside.
Start the kabobs with a pepper then, spinach, followed by a meatball, add another toothpick, add more spinach, another meatball, lastly another pepper. You will follow this sequence until you are done with the ingredients. I made homemade Tzatziki sauce to dip into it.