Grilled Salmon with Salsa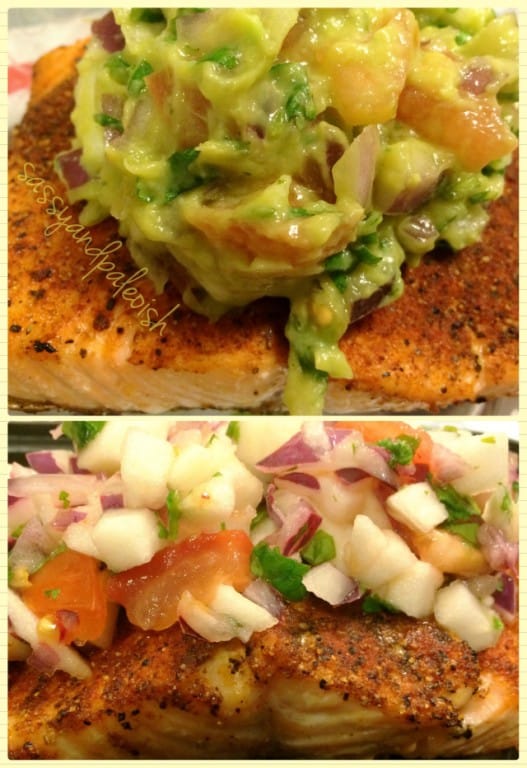 Ingredients
2 Pieces of Salmon 1 tbs coconut oil 1 tsp salt 1 tsp ground cumin 1 tsp smoked paprika powder 1 tsp onion powder 1 tsp garlic powder ½ tsp chili powder 1 tsp black pepper
Avocado salsa: 1 avocado diced 1/2 cortland apple 1/2 small tomato diced 1/4 cup diced red onion Juice from 2 lemons 2 Tbs finely chopped cilantro Salt to taste
Apple Salsa 1/2 cortland apple diced 1/2 small tomato diced 1/4 cup diced red onion Juice from 2 lemons 2 Tbs finely chopped cilantro Salt to taste
Directions
Mix the salt, chili powder, cumin, smoked paprika, onion , garlic and black pepper together, then rub the salmon fillets with melted coconut oil and then generously rub seasoning onto filets, refrigerate for at least 15-30 minutes.
Pre-heat the grill.
Combine all ingredients of the salsa you prefer. My husband dislikes avocado so I had to make a variation of mine for him. Grill the salmon to desired doneness. Approximately 8 minutes skin side down.
Finally top with your favorite salsa!