1. Gently mix all ingredients in a large mixing bowl and let sit in fridge overnight.
2. Let meat mixture sit for 30 minutes at room temp after removing from fridge. Place meat mixture between two pieces of wax or parchment paper, and using a rolling pin or baking sheet, flatten into a rectangle/square shape 1/8″ to 1/4″ thick. Cut into strips of desired width and length and place on dehydrator tray. Follow your dehydrator's instructions, or turn dehydrator to 145-150 degrees and dry jerky for 6-12 hours, until the pink inside just disappears or just a little remains. You don't want to dry them out too much, as they will continue to harden after being taken out of the dehydrator.
3. When cool, pat jerky with a towel to remove fat from the surface. Store in fridge or freezer.
Notes/Substitutions:
I usually cut my strips about an inch and a half wide and 5-6 inches long, and I keep them closer to 1/4 an inch thick. I get about 12 strips per pound of ground beef, and since I make them on the thicker side, it usually takes close to the full 12 hours for them to dry completely. If you double or triple the recipe, of course your drying time will increase. Every few hours, I rotate my dehydrator trays and flip the jerky over. Is it necessary? I'm not sure, but it makes sense to me that it could ensure all of the pieces dry uniformly, and I've been too nervous to tempt fate and not do it!
This can be done in the oven if you don't have a dehydrator, but I wouldn't highly recommend it unless your oven will go down to 145 or 150 degrees. I tried it in my oven that only goes down to 170 or 175 degrees–that cooked it far too quickly, and it was too hard to maintain a constant temp when cracking the oven door. You might have better luck though!
[ingredients]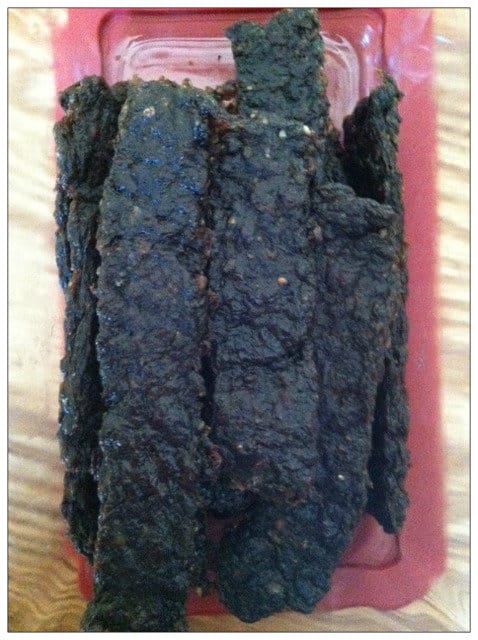 Ingredients
1 lb lean ground beef
3 Tbsp coconut aminos
1/2 tsp salt
1/2 tsp garlic powder
1/2 tsp onion powder
black pepper to taste