In a bowl, mash the avocado with the minced garlic and sprinkle in your lemon/lime juice. The juice slows down the oxidization of the avocado, which goes black when exposed to air (it's still good though!!!). Eating these right away prevents any worry of colour change.
Once your 'guac' is ready, carefully slice your eggs in half and pop out the yolks into a bowl. Place the eggs on a plate while they await their dressings!
Add the guac to the yolks bit by bit until the mixture is smooth and moist. Spoon the guac into the eggs and sprinkle with your spices.
If you have leftover guac, you can use it as an added dip for the sliced zucchini and salsa or for shrimp!
[ingredients]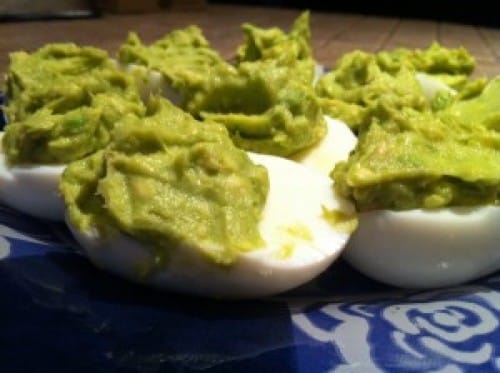 Ingredients
4-6 hard boiled eggs, cooled and peeled
pinch of pepper, paprika or tumeric
1 avocado
2-3 cloves minced garlic
3 TBPS lemon or lime juice