Hatch Green Chile Breakfast Casserole
A spicy, saucy breakfast casserole that makes enough to feed the whole family!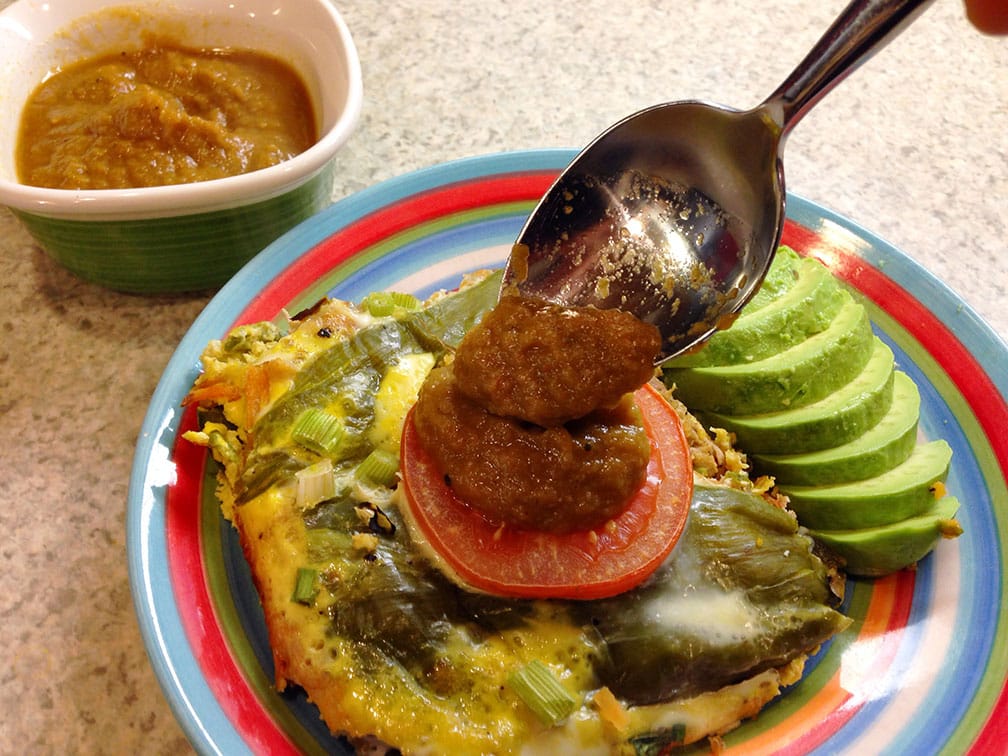 Ingredients
1 tbsp coconut oil
1 yellow onion, diced
1 sweet potato, grated
1 bell pepper, diced
2 cups of precooked pulled pork
1/2 cup salsa verde
1 tsp garlic powder
1 tsp paprika
1/2 tsp cumin
Salt and pepper to taste
10 Hatch green chiles, roasted, peeled and seeded
8 eggs, whisked with salt and pepper
One medium tomato, cut into 6 slices
2 green onions, thinly sliced
Hatch Green Chile Sauce
Directions
Preheat oven to 350F.
Heat coconut oil in a large skillet over medium heat. Add onion and cook until translucent (3 to 5 minutes), stirring frequently so they don't stick to the pan.
Add sweet potato and bell pepper. Cook for an additional five minutes, stirring occasionally.
Add pulled pork, salsa verde and spices. Stir well to incorporate. Cook for five minutes until pork is heated through.
Transfer pork and vegetable mixture to a large (9 x 13-ish) glass baking dish.
If not already done, chop stems off of green chiles and slice one side in half lengthwise so that you can open the chile up and lie it out flat. Lay an even layer of chiles in pan. Pour eggs evenly over the top. Lay tomato slices over top of eggs and sprinkle with green peppers.
Cover with aluminum foil and bake for 30 minutes. Uncover and bake for an additional 10 to 15 minutes, until eggs are set. Cut into six slices and top each with a spoonful of Hatch Green Chile Sauce.