Healthy Zucchini Brownies
Notes:
*If you have ground nutmeg then the recipe says to use 1/2 tsp. We only keep whole nutmeg that we grate when needed (the flavor lasts longer and is fresher) which like most spices are stronger when fresh so I just grated a little bit of fresh nutmeg in the batter without measuring.
>Small specks of green from the zucchini skins are visible so If you want to be sneaky and not let anyone know there is zucchini, you can peel before grating.
>The chocolate chips will sink to the bottom (some people hate when this happens- I really didn\'t mind since there were mini chocolate chips on top) so you could toss 1 tbsp of gluten free (or regular if not gluten intolerant) flour in a separate bowl with the 1 cup of chocolate chips before adding it into the batter. This will help keep the most of the chocolate suspended in the batter while cooking.
1. Preheat oven to 350F & line a 9×9 pan with parchment paper or lightly grease.
2. In a medium bowl, combine the almond butter, honey, egg, vanilla, baking soda, cinnamon, and nutmeg using an electric beater until blended (the batter will be thick, don\'t worry).
3. Stir in the zucchini and 1 cup of chocolate chips until incorporated -the batter will loosen up since the zucchini contains a lot of moisture.
4. Pour batter into prepared pan, sprinkle with the mini chocolate chips, and bake for 35-45 minutes.
5.Let the pan cool for about 20 minutes on a wire rack before grabbing the parchment paper and lifting it brownies out of the pan to finish cooling on the rack.
These are good at room temp. or zapped in the microwave for a few seconds.
[ingredients]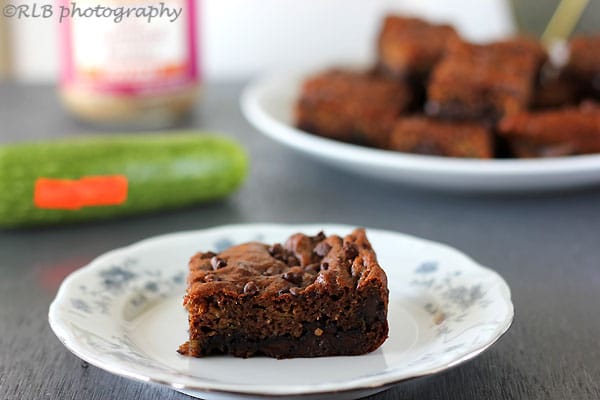 Ingredients
1 cup almond butter
1/3 cup raw honey
1 egg or flax egg
1 teaspoon vanilla extract
1 teaspoon ground cinnamon
1 teaspoon baking soda
1 cup dairy free dark chocolate chips
2 tablespoons chocolate chopped or mini chips
1 1/2 cup shredded zucchini