Homemade Almond Joy Candy Bar (Gluten Free, Dairy Free, Paleo)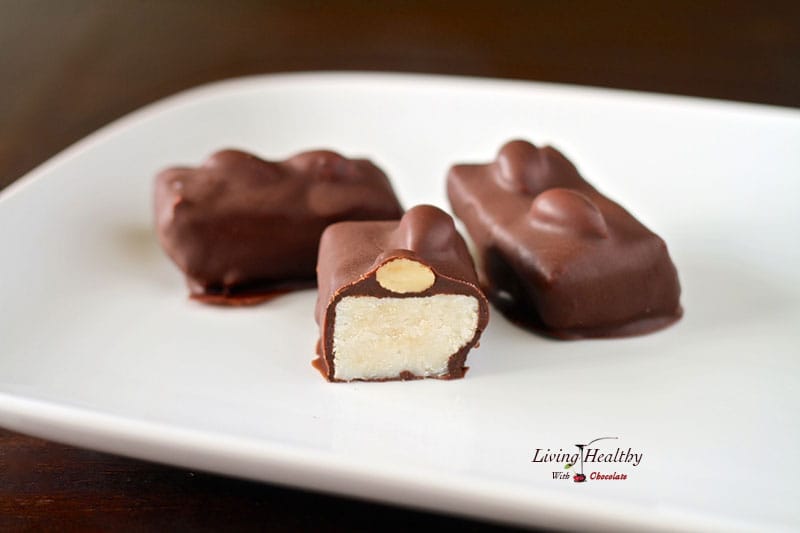 Ingredients
1½ cups unsweetened shredded coconut
¼ cup melted coconut oil
5 tablespoons coconut butter
1 teaspoon vanilla extract
2 tablespoons raw honey, pinch of salt, raw almonds
½ cup cacao butter
½ cup chocolate chips (Enjoy Life)
Directions
Mix the shredded coconut, coconut oil, coconut butter, vanilla extract, honey and salt.
Line a medium loaf pan (8½" x 4½") with parchment paper and press the mixture into the bottom and sides of the pan.
Refrigerate for about 1 hour and cut into small rectangles of approximately 2 inches long by 1.5 inches wide then return to the fridge.
Melt the cacao butter and chocolate chips in a double boiler over simmering water.
Let chocolate cool for 5 minutes.
Line a cookie sheet with parchment paper, place 2 almonds in each coconut bar and dip in the chocolate using a fork, one at the time.
Refrigerate until chocolate hardens then double dip the candy in the chocolate. Recipe makes approximately 13 (2" x 1½") Almond Joy Candy Bars. Store in an airtight container in the fridge.