Honey Mustard Burgers on a bed of Veggie Mash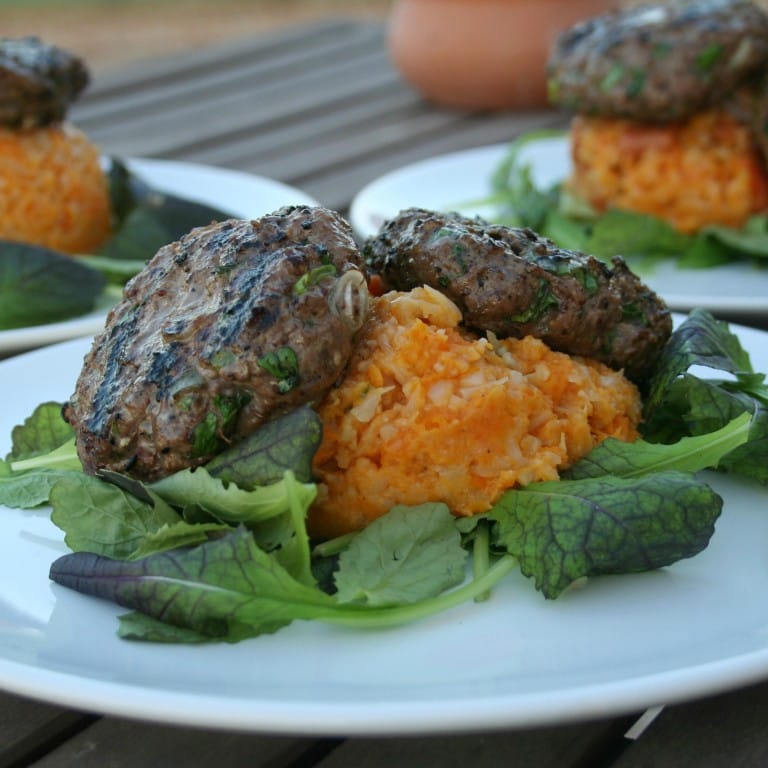 Ingredients
800 grams of minced beef
3 heaped tablespoons of whole grain mustard
3 tablespoons of honey
2 tablespoons of mustard seeds
1/3 tsp salt, 1/3 tsp pepper
1 egg white
2 sprigs of spring onions, 1 bushel of coriander leaves
1 sweet potato
3 carrots, 4 cloves of olive oil roasted garlic, 2 Tbsp coconut milk
1/2 a head of cauliflower
Directions
For the burgers: Mix all your ingredients in a large bowl, use your hands to mash in a all the ingredients
Let the mix sit on your counter top for 30 minutes, you want the beef to be at room temperature so that you don't burn the outside on the grill. Remember to not leave it out for too long as bacteria can grow at room temperature. Shape into equally-sized patties. Don't forget to make a small indent with your thumb in the center of the patty, this will make it flat when it cooks, instead of turning into a ball as the center becomes juicy Grill on your bbq or oven grill until done
For the mash: Roast a head of garlic in a bed of olive oil for 20 minutes then set aside to cool.
Microwave the potato and carrots for 15 minutes until they are really soft – remember to poke holes in the skin with a knife, or else you'll have an exploding potato in your microwave!
Boil the cauliflower and drain it once it's nice and soft. Peel the potato (or leave it on if you prefer a textured mash) then mash all the veggies up with 4 cloves from your roasted garlic head, 2 Tbsp of coconut milk, a handful of chopped coriander leaves and 1 small sprig of chopped onion. Salt and pepper to taste.