hunk-a-paleo-heaven birthday cake feat. chocolate
Preheat oven to 180 degrees celsius.
Line two twenty centimetre cake pans.
Mix coconut flour, cacao, baking soda and salt in a bowl.
In another bowl, use an electric mixer to beat the eggs until fluffy.
Add the oil, syrup, water and vanilla and beat until combined.
Add in your dry ingredients and on high speed, beat for a further two minutes (it should be a little fluffy).
Divide the cake batter evenly into the pans.
Place into the oven and bake for 25 minutes or until a toothpick
comes out clean.
Let cool for 10 minutes.
Turn out the cakes onto a wire rack and cool completely before icing.
for the icing.
Melt the chocolate and oil in a double pan on medium heat over water.
Stir in vanilla.
Place icing in the fridge for thirty minutes until thick.
Beat the frosting until light and fluffy.
Ice the top of one cake then place the other cake on top.
Continue to ice the top of the second layer cake as well as the sides.
We garnished ours with dark chocolate coated roasted cashews! Simply melt some dark choc, stir through your cashews and let to
dry on baking paper!
We know you will LOVE this one!
Merrymaker tip: for the cake pictured, we used a protein frosting: simply mix three cups of plain greek yoghurt, with three servings of casein chocolate protein powder, two tablespoons of cinnamon and a squeeze of raw honey. In the recipe below is an alternate frosting that is extra rich and non-dairy (equally delicious!)
[ingredients]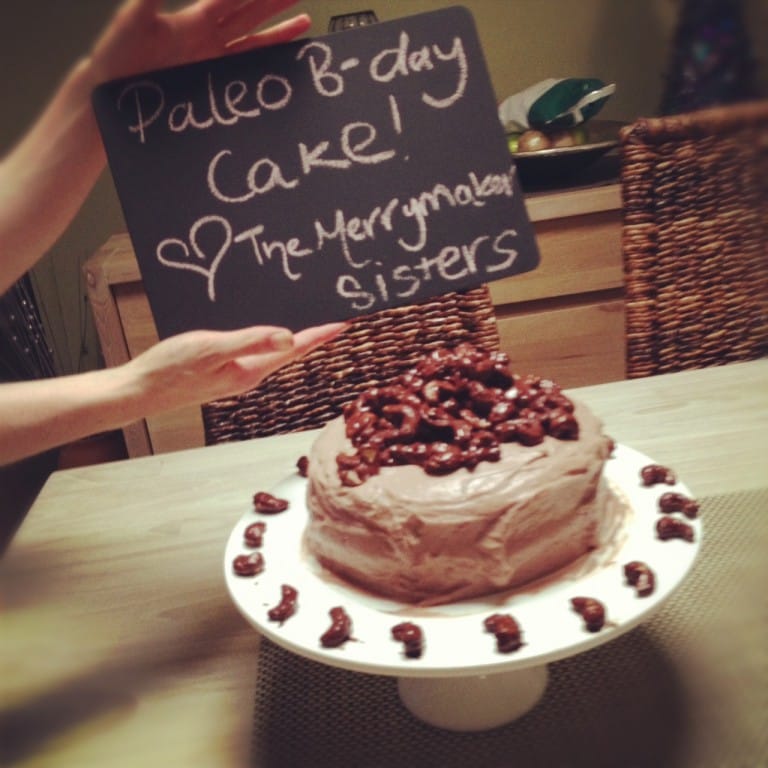 Ingredients
one cup coconut flour
three quarters of a cup of cacao powder
one tsp baking soda
one teaspoon salt
nine eggs
three quarters of a cup of coconut oil melted
three quarters of a cup of coconut syrup
three quarters of a cup of water (or coffee if you like)
two tsp vanilla extract
for the icing: two cups dark chocolate, two thirds of a cup of coconut oil, two tsp vanilla extract