Italian Herb Roasted Turkey Wings
AFFORDABLE, MEATY, AND REFINED: HERBED TURKEY WINGS IN A WHITE WINE SAUCE
I receive a bi-weekly meat and dairy csa (I'm a single girl – I cannot eat half a dozen eggs in one week. Well, I can. But I rarely do). The delivery is a quart of grass fed milk, half a dozen eggs, and then a pound of meat which is always a surprise.  Usually the meat is lamb related.  This week, I was surprised to find 2 pounds of turkey wings.  They are MASSIVE.  You know the legs from a renaissance faire?  That kind of size.  Look at that photo above. You might confuse the wing and drum for regular ole chicken wings but you'd be wrong.  That's a regular sized dinner plate.  I should have used a banana for scale.
In any event, they sent me these wings and I had no idea what to do with them!  There aren't many recipes online.  Most of them call for turning the wings into bone broth.  But they're so meaty, I couldn't imagine wasting them.  Plus I love buffalo wings.  How could the turkey variety not compare?  I did stumble upon some southern dishes that recommended frying them or drowning them in heavy, SAD based sauces.  That was a no-no.  So I decided I'd roast them my way.  The result was not only phenomenal. I think I've just stumbled on the next food craze.  Because this cut of meat is dirt cheap.  And if it's this easy to make and it's this delicious? I might have just found the next kale, people.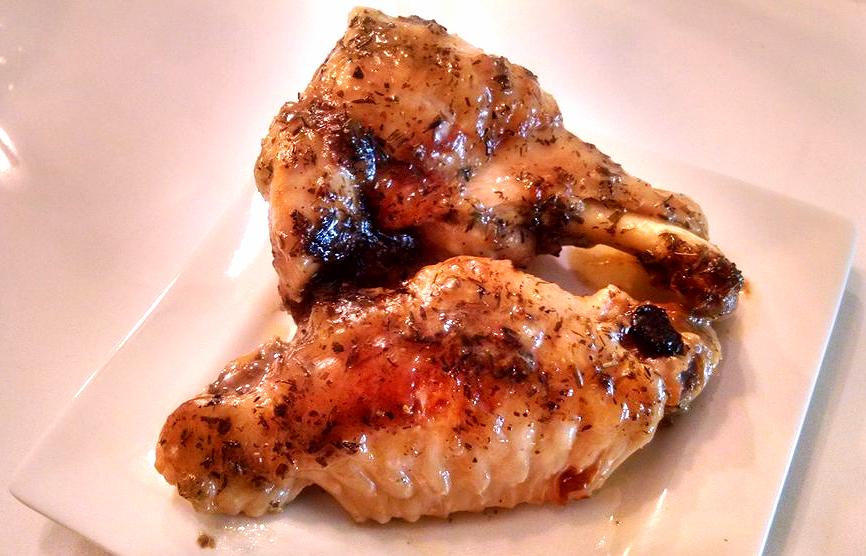 Ingredients
2.5 lbs turkey wings (two flat wings, two drumettes)
4 tbsp herbs de provence
1 tbsp lemon pepper
2 tsp garlic powder
1 tbsp Salt and Pepper +
2 tbsp olive oil
4 tbsp potato flour
8 ounces chicken bone broth
8 ounces white wine (can substitue 2 tbsp lemon juice and water)
Directions
Preheat your oven to 350 degrees.
Salt your turkey wings. Combine your herbs, lemon pepper, garlic powder, and flour in a bowl. Dredge your wings in the mix.
Put your dutch oven on the stove over high heat for 90 seconds. Then add 1 tbsp of olive oil. Brown your turkey wings cooking two minutes per side and then set them aside.
Deglaze your pan with the wine. Then add your stock and bring it to a boil. When it starts to boil, add your turkey back in, cover, and put in the oven for an hour. Bast at 30 minutes.
When the cooking is done, pull the dutch oven out and keep covered for 20 minutes (I like to rest things, mkay??). Then remove the turkey wings and turn the stove back on high. The broth should already be cloudy and almost thick. Add the butter to it and allow it to reduce by half (it took about 4 minutes for me). Then drizzle the remaining tbsp of olive and season with salt and pepper.
Serve the turkey wings and spoon the sauce generously.