Preheat the oven to 350 degrees and heat up a large skillet to medium-high.
Knock out all your chopping and mincing while those come to temp. Also place your cleaned mushrooms (stems removed) in a casserole dish. Greasing is not necessary.
Add the sausage, onions, garlic and seasonings to the pan and brown. It may look like the seasonings are going way overboard since there is already a good amount of flavor in the sausage, so I'll let you in on my thinking. Over-seasoning the protein is actually intended for perfectly flavoring whatever liquid is on stand-by. In this case, it's the tomatoes. Herbs and chili flakes do well to take on some heat before going into liquids… it gets the oils moving, maximizing the flavor. This is why I take this approach.
So when the sausage and onions are nearly done, add the chopped spinach to the mix. When wilted slightly, add the tomatoes. After simmering for just a few minutes, your sauce should be perfectly seasoned. But please taste to check for any needed adjustments.
If using the optional ingredients, stir in a hefty spoonful of Spinach Pesto to the pan before pouring over the mushrooms. Before placing in the preheated oven, add dollops of pesto and crumble on the goat cheese. If you are transitioning and still eating cheese, this is phenomenal with a layer of mozzarella, however, non-dairy goat cheese is equally as delicious and keeps you on the Paleo track.
Cover and bake for 20 minutes or until the juices are bubbling and the mushrooms have softened. Let sit for 5 minutes or so once removed from the oven.
[ingredients]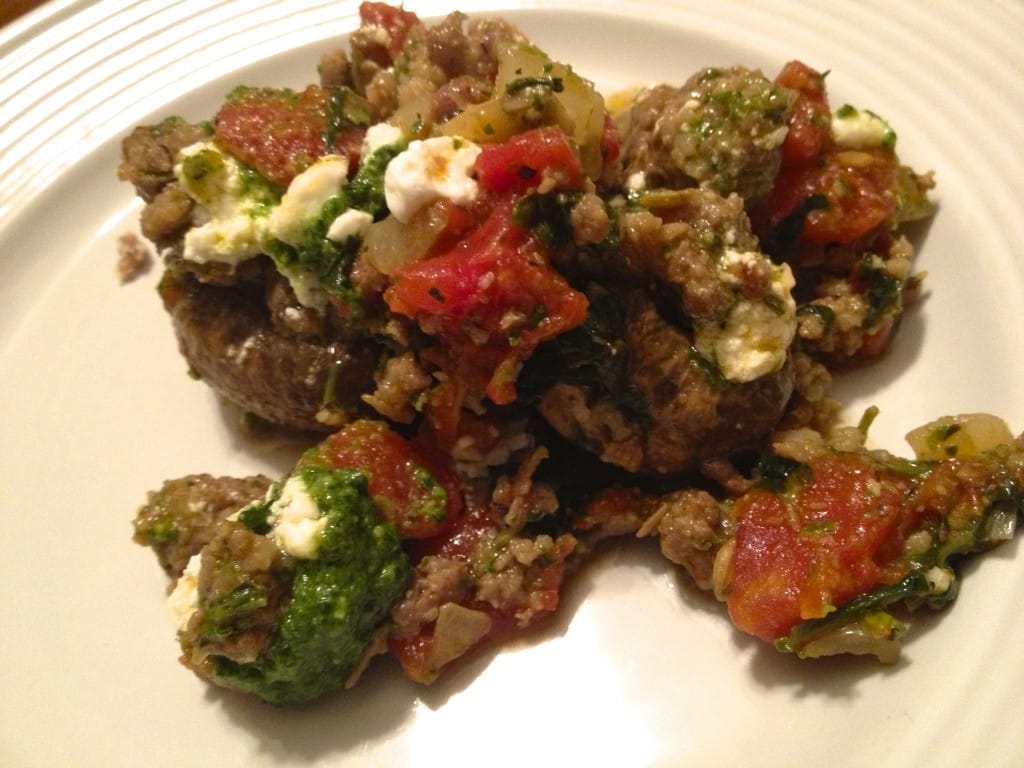 Ingredients
1.5 pounds of white mushrooms, stems removed
1 pound ground Italian sausage
14oz can organic diced tomatoes
2 cups fresh baby spinach, chopped (kale works too!)
1/2 white onion, diced
2 cloves garlic, minced
2 tsp dried Italian seasoning
pinch of red chili flakes
pinch of kosher salt
optional items: a couple tablespoons of fresh pesto, crumbles of goat cheese