When I was growing up my mom and I used to spend the entire day together — and she would treat me to a calzone for lunch at our local mall's food court.  Needless to say, I have a special place in my heart for calzones, but never eat them!  These little gems; however, are easy to get on board with!  They are gluten-free, grain-free and even nut-free.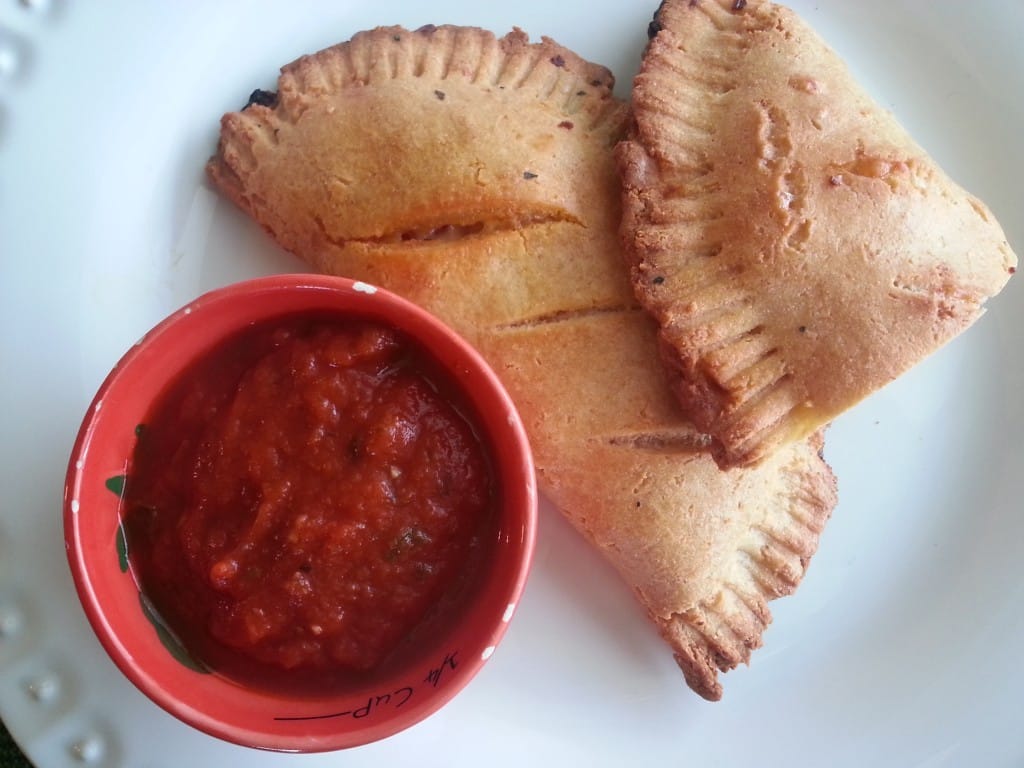 Ingredients
Ingredients for Dough:
1/2 cup coconut flour
1-1/2 cups tapioca flour
1/2 cup potato flour
2 tsp. salt
1/2 tsp. garlic powder
3/4 cup warm water
2 tsp. grassfed gelatin
3 eggs
1/2 cup organic palm shortening, melted
Ingredients for Filling:
1 lb. hot Italian sausage
1/4 cup white onion, finely chopped
1 garlic clove, minced
1/2 cup mushrooms, chopped
1/2 tbsp. dried basil
24 small pepperoni slices
4 oz. grassfed mozzarella cheese, grated
1 cup marinara sauce + extra for dipping
Directions
Preheat oven to 400 degrees.
Heat a large skillet over medium heat. Add sausage, break it up well, and cook until it is brown.
Add onion, garlic, mushrooms, and basil — continue to cook until the onion and mushrooms are soft. Set meat mixture aside to cool a bit.
Meanwhile, mix your dough up. In a large bowl combine coconut flour, tapioca flour, potato flour, salt and garlic powder.
In a separate bowl add water and sprinkle in your gelatin. Allow it to sit for a minute or so. Then, whisk in your eggs and palm shortening.
Add the wet ingredients to the dry ingredients and knead with your hands until a uniformed dough has formed. It will be pretty sticky at first — it will become easier to handle once it is fully combined.
Divide the dough into 8 equal balls. Take each ball, flatten it, and roll it out with your hand or a rolling pin. You want a disk that is about 5-6 inches in diameter.
To prepare each calzone – start by brushing a small amount of sauce on one half of a disk. Layer sausage, 3 pepperoni slices, and cheese. Carefully pull the un-filled half of dough up and over your filling. Press down the edges to make sure the filling won't leak out. Flatten the edges of the dough with a fork. Continue this process until all (8) calzones are made.
On a parchment-lined baking sheet arrange your calzones so that they are not touching. Brush each of them with some egg wash (whisk together 1 egg + 1 tbsp. water).
Cut a few small slits on the top of each calzone, and bake them for 30 minutes or until golden brown on the top.
Serve plain, ladle marinara sauce on top, or use marinara sauce on the side for dipping.