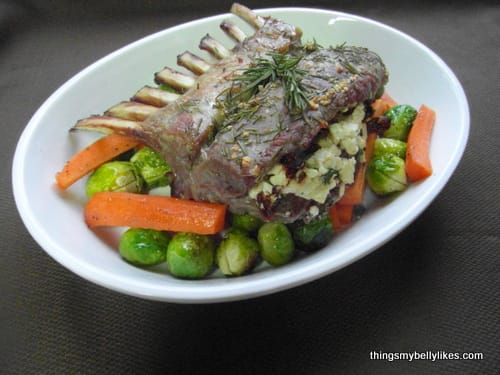 Ingredients
8 piece rack of lamb
1 1/4 cup feta cheese, crumbled
8 sundried tomatoes, diced
3 sprigs fresh rosemary
3 cloves garlic
2 tbsps extra virgin olive oil
1 small bunch parsley, finely chopped
Directions
Trim any excess fat off the lamb. Finely chop the rosemary and garlic, mix with the olive oil and rub into the lamb. Transfer to the fridge and chill for an hour.
Slice the rack horizontally, at the thickest part just above the bones, to create a 'flap' in the meat. Stir together the parsley, tomatoes and feta. Stuff this mixture into the crevice you've made in the lamb.
Take the lamb from the fridge and bring to room temp. Bake at 375 for 30-40 minutes, depending on how well done you like your meat.