Jamaican It Paleo BBQ Sauce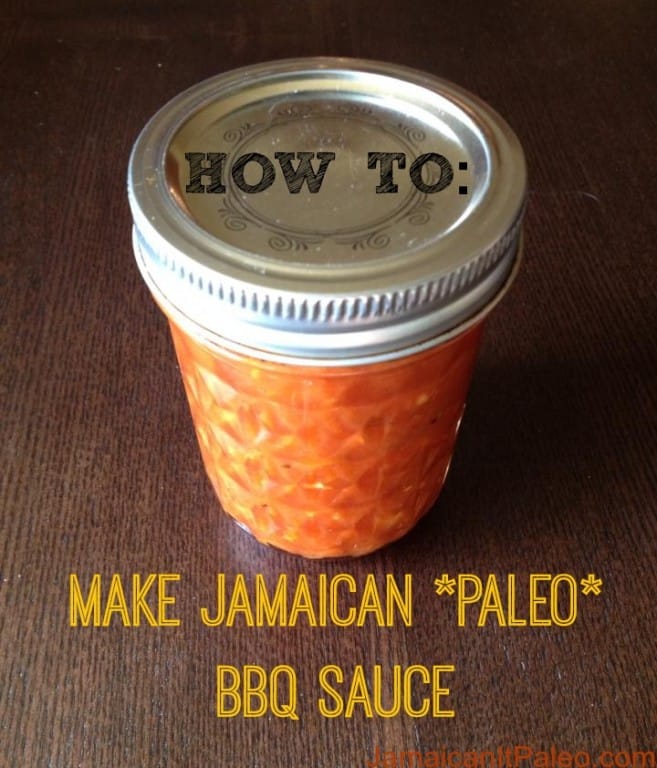 Ingredients
1 tbsp. coconut oil (or fat of your choice)
1 very ripe banana (I'm talking a black banana!)
1 tbsp. organic 100% pure maple syrup (optional for more sweetness)
1/2 cup water
1 scallion (minced)
1/2 yellow onion (minced)
3 garlic cloves (minced)
1 tsp. crushed red pepper (or 1/2 seeded scotch bonnet)
16 oz tomato sauce
1 cup apple cider vinegar
1 tbsp. fish sauce
1 tsp. coconut aminos
1 tsp. of all of the following: allspice, thyme, nutmeg, cinnamon, smoked paprika, black pepper, 1 tsp. salt 1 juiced lime and 1 tsp. lime zest
Directions
Mash up the ripe banana, add the water and whisk it until it is liquified. In a saucepan, melt the coconut oil over medium heat.
Add the onion, scallion, garlic and (optional scotch bonnet pepper) and cook until soft (about 5 minutes)
Combine the banana mash and the remaining ingredients in a saucepan over medium high heat and stir. Bring to a slow boil and lower heat to simmer.
Allow to simmer for about 30 minutes or until it is thickened and not pasty. Pour onto meat and allow to marinate overnight in the fridge or cool and store in an airtight glass container for up to 3 days in the refrigerator.