Preheat oven to 200 degrees. Cover a baking sheet with aluminum foil and place sliced onions in the center.
Combine tomato paste, coconut aminos, coconut vinegar, garlic, and jerk paste in a small bowl. Rub the rack of ribs with the sauce, covering it completely. Place the sauced ribs on top of the onions and cover with another sheet of aluminum foil. Seal the ribs in a packet by rolling up the ends of the foil and place in the oven.
Allow the ribs to cook in the 200 degree oven for 8-10 hours.
When the ribs are finished, remove the meat (the bones should slide out easily) and plate.
Get yourself some.
[ingredients]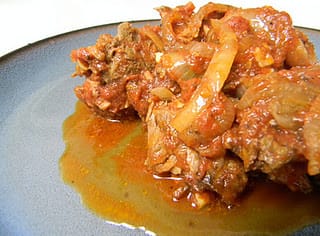 Ingredients
2lb Rack of beef ribs (remove as much of the sheet of connective tissue on the underside of the ribs as you can, and punch a ton of small holes in the meat with a knife or tenderizing tool)
1 8oz Can of organic tomato paste
5 Cloves garlic (minced)
1/2 white onion (sliced into thin rings)
3 tbsp of Jamaican Jerk paste (if you don't have this, you can also use Thai green curry paste, or a simple combination of chopped pickled chili peppers, scallions, black pepper, and sea salt.)
2 tbsp Coconut aminos (or wheat-free tamari soy sauce)
2 tbsp Coconut vinegar (or apple cider vinegar)