Jerk-style Plantain Fries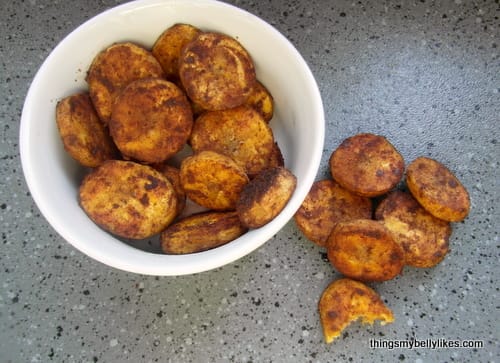 Ingredients
1 large green plantain
1/4 cup coconut oil
1/2 tsp ground thyme
1/2 tsp coconut palm sugar
1/4 tsp cinnamon
1 tsp allspice
1/4 tsp sea salt
1/4 tsp cayenne
1/4 tsp cumin
Directions
Peel the plantain (greens ones do not peel easily like bananas. I like to cut off the top and bottom then lightly score it down the side and peel it back).
Cut width-ways into rounds about 1/2 inch thick.
Mix together the thyme, sugar, cinnamon, allspice, salt, cayenne and cumin.
Toss the plantain in the spice mix and stir until the pieces are coated.
Heat the oil in a frying pan over a high heat.
Carefully add the plantain. Cook until golden, turning halfway through (mine needed about 2 minutes on each side). Serve immediately.