Massaged Kale:
1 head of kale
juice of 1/2 lemon
pinch of salt
1 tbs. raw olive oil
1. Rinse kale leaves and pat off water with dish towel or paper towel.
2. Remove stem from each leaf.
3. Cut leaves into small strips and place in a bowl.
4. Add lemon juice, salt, and olive oil to leaves and massage thoroughly with hands. (This will soften kale and reduce leaves in size.) Set aside.
Dressing:
1/2 avocado
3 tbs. raw olive oil
2 tbs. raw apple cider vinegar
juice of 1 lemon
1/2 tbs. raw honey (or raw coconut sugar for vegans)
1. Place all ingredients in blender and mix until well combined.
2. Toss dressing with kale leaves until mix well.
Toppings:
6-8 dried turkish figs, stems removed
2 tbs. hemp seeds
1/2 cup raw pecans, chopped, or maple spiced pecans (optional)
pinch of black pepper
1. Chop figs into small pieces.
2. Add all ingredients to kale salad. Enjoy!
[ingredients]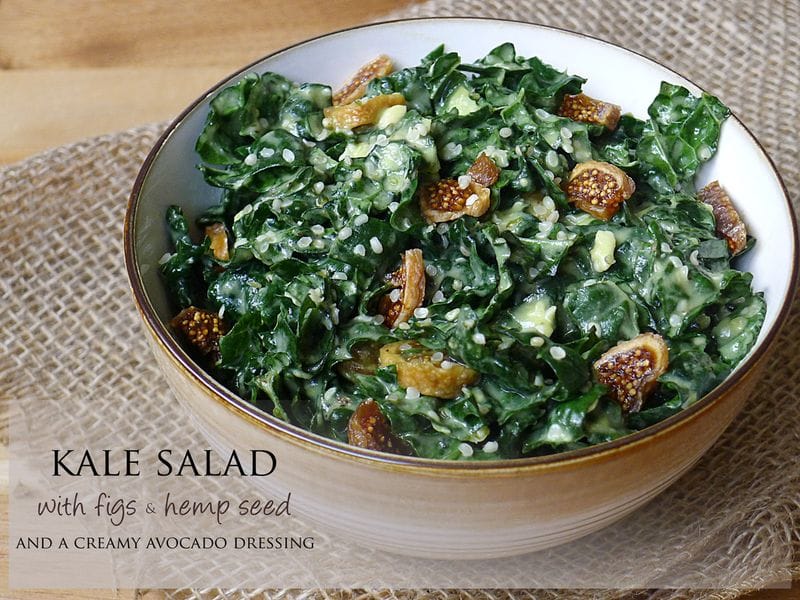 Ingredients
Kale
Figs
Lemon
Avocado
Apple Cider Vinegar
Olive Oil
Hemp Seeds