Karelian Hot Pot – Finnish beef, lamb, and pork stew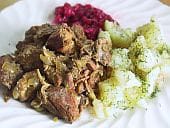 Ingredients
1 lb. beef stew meat
1 lb. pork stew meat
1 lb. lamb stew meat
1 Tbsp. olive oil
2 large onions, peeled and sliced
1 tsp. salt
2 tsp. peppercorns
8 whole allspice
2 bay leaves
2-3 cups water
Directions
Brown beef, pork, and lamb stew meat on all sides in olive oil over medium-high heat.Yield: 5-6 servings of Karelian Hot Pot.
Place half of the sliced onions in the bottom of the crockpot, cover with half of the meat, and sprinkle with half of the salt, peppercorns, allspice, and a bay leaf. Repeat the layers.
Pour in 2 cups water, cover crockpot, and allow to cook on low heat for 6-8 hours.