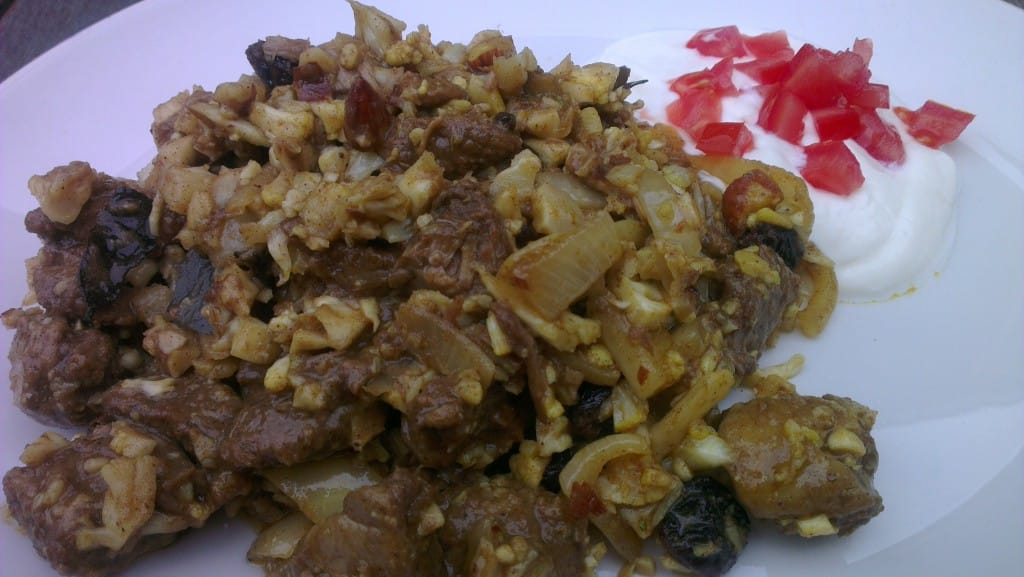 Ingredients
1 teaspoon of organic butter
1.5kg of lamb (I tend to use shoulder joint)
250ml of chicken stock (home made preferably)
100ml of coconut milk
4 cloves
4 bay leaves
Masala Ingredients List
1 teaspoon of ground cumin
1-2 teaspoons of chili powder
1 teaspoon of sea salt
1 teaspoon of turmeric
1 teaspoon of garam masala
1 teaspoon on ground cinnamon
Cauliflower Rice Ingredients List
1 large onion, chopped
1 large head of cauliflower, finely chopped
50g raisins
Large handful of almonds
1 tomato, chopped
2 large tablespoons of yoghurt
Directions
Chop the lamb from the bone and into bite sized chunks. Heat a pan with half a teaspoon of butter.
Once the butter has melted throw in half of the masala mix with the cloves and bay leaves.
When the masala mix is sizzling put the lamb in to fry and seal the meat.
Once the meat has browned all over pour in the chicken stock and coconut milk.
Leave this to gently simmer for 3 hours with the lid off which will reduce the sauce and thicken it up.
Heat another larger pan with remaining half of the butter.
Throw in the onion and after a couple of minuets put the cauliflower in.
Add the rest of the masala to the onion and cauliflower.
After a couple of minutes frying, pour the lamb and thick sauce in with the onion and cauliflower.
Allow it to cook together for a while and add the raisins and nuts stirring them in.
Serve and garnish with the yogurt and tomato.