Prepare the bok choy – cut green part off and set aside. Slice up the white part.
In a large frying pan, heat olive oil and sesame oil and stir-fry the onion, sweet potato (cut into small bite-size slices), and white part of bok choy, until sweet potato is softened.
Stir in chopped up pork and green part of bok choy. Add broth. Stir until pork is heated through and green bok choy is wilted. Serve hot.
You can add any other veggie or cooked meat you want… celery, snow peas, zucchini, chicken, beef, etc… and season it according to your taste. I sometimes add beaten eggs to make it into egg foo young.
[ingredients]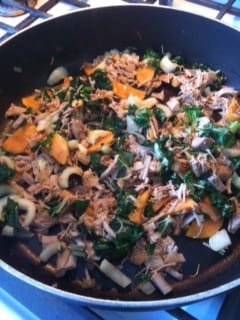 Ingredients
Leftover roast pork (cooked), chopped
2 baby bok choy, chopped
1/4 cup onion, chopped
1/2 sweet potato, sliced small
1 clove garlic, minced
1/8 cup beef broth or water
1/2 tbsp. olive oil
1 tsp. sesame oil
black pepper to taste