I used to make a killer cheeseburger soup in our pre-paleo days, but it was full of ingredients we no longer eat. I thought about all of my favorite bunless burger toppings that made sense in a soup, and this is what I came up with. The pickles probably sound strange, but I used a fairly small amount, and they were a fun addition that we all enjoyed. It's really easy to tailor this soup to your liking though–omit what you don't like, add more of what you like, and/or add your own favorite burger toppings.
My finished product does not resemble the super thick stuff I used to make in the least, but I didn't want to mess with it by trying to add anything to thicken it up. It's still a delicious, hearty soup full of all sorts of good stuff!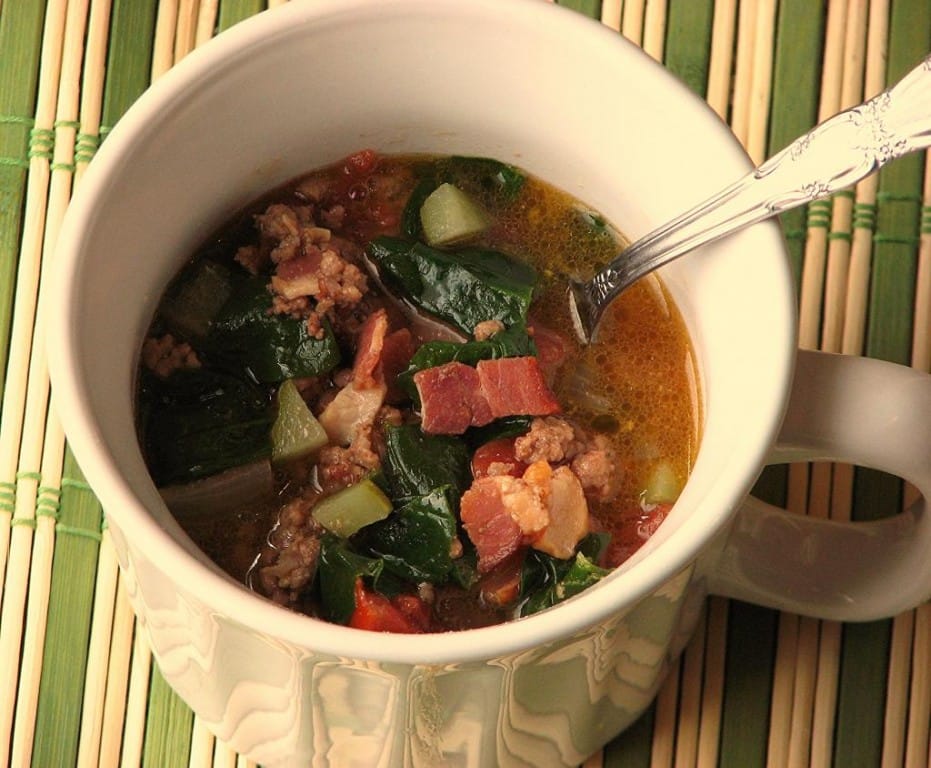 Ingredients
3 slice bacon, diced
1 pound ground beef
1/2 cup diced onion
1/4 cup diced fermented pickle
6 cups beef stock
1 18 oz jar or 14.5 oz can diced tomatoes, not drained
1 tsp ground dry mustard
2 cups spinach or kale
Salt and black pepper to taste
Optional: Diced avocado or guacamole for garnish
Directions
In a large stock pot or Dutch oven over medium high heat , cook bacon until crisp, about 7-8 minutes. Remove to towel or plate but do not remove bacon grease.
Place ground beef in the same pot, season very lightly with salt and pepper and begin to brown. When beef is halfway browned, add onion and continue cooking until beef is completely browned.
Add dry mustard, pickles, tomatoes and stock. Bring to a soft boil, reduce heat and simmer for 10 minutes.
Add spinach or kale and stir just until it begins to wilt, about 2-3 minutes. Remove from heat.
Add bacon and salt and/or black pepper to taste.
Serve in individual bowls garnished with diced avocado or a scoop of guacamole, if desired.