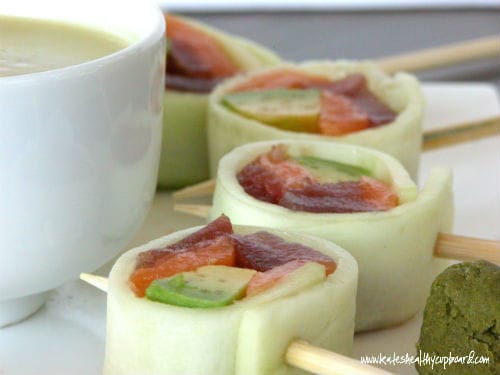 Ingredients
3/4 lb sushi grade fish (I use slamon and tuna but shrimp and crab would work)
1 large cucumber
1/2 of an avocado, sliced into 6 pieces
12 bamboo skewers
wasabi powder
Directions
Using a mandoline, slice the cucumber lengthwise into 1/8 inch thick slices.
Lay out a slice of cucumber vertically. Place fish slices and a slice of avocado horizontally across the cucumber. Set all of them right next to each other. You may need to trim off and pieces that are hanging over the edge of the cucumber.
Roll the cucumber tightly until it overlaps itself.
At the overlap spot, poke a bamboo skewer into each side so you can slice it right down the middle to form two rolls.
Repeat the process until you have 12 finished rolls.
Combine wasabi powder with a bit of water to create desired consistency.