Add all Ingredients to a food processor & blend about 1 minute until everything is chopped into small pieces and starts to stick together.
Place mixture on a large piece of plastic wrap. Shape mixture into a rectangle, pressing and patting it until very dense and sticks together nicely.
Wrap tightly and refrigerate a few hours, until very firm. Slice bars and enjoy!
Store at room temperature for up to a week; in fridge up to 2 weeks; or wrap bars individually and freeze until needed. To thaw, simpley set on counter for about 30 minutes until room temp before eating.
Macadamia nuts can be replaced with walnuts, pecans or almonds if desired.
Makes about 14 bars.
[ingredients]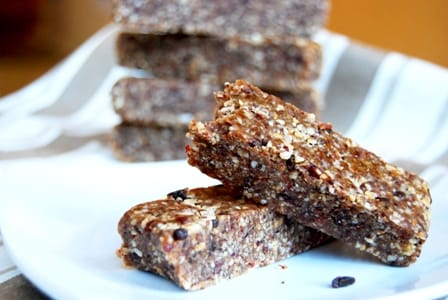 Ingredients
8 Medjool Dates
3/4 c coconut flakes or 1/2 c finely shredded
1/2 c raisins
3/4 c macadamia nuts
3/4 c sunflower seeds
1/2 c dried cherries (can sub dried cranberries)
1/4 tsp cinnamon
1/2 rap vanilla
1 tsp honey