Mahi Mahi w/ Spicy Crab Meat Hollandaise
Preheat oven to 350 degrees.
Place Mahi Mahi fillets on a parchment paper-lined baking dish. Arrange fillets with the skin side down. Season with salt and pepper. Cook until fish is opaque (approximately 15 minutes, depending on the thickness of your fish).
For the hollandaise, place all ingredients (except for the crab meat) in the top part of a double boiler (don't let the boiling water below touch the top pan), slowly adding the butter. Stir continuously until the butter melts and the sauce thickens. Add crabmeat and stir.
Plate the fish. Divide the spicy crabmeat hollandaise among the fillets, drizzling over the top. Spinkle with bacon pieces and chives.
Enjoy!
[ingredients]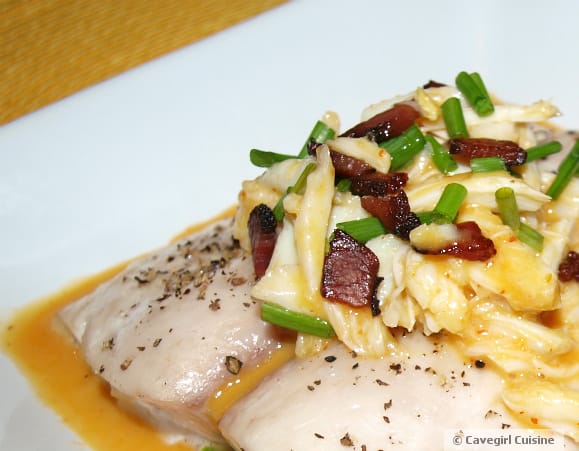 Ingredients
3, 4-ounce Mahi Mahi fillets
2T chives (chopped in 1/4-inch lengths)
1 piece thick bacon, diced & cooked (I used Black Forest Bacon from Whole Foods)
Hollandaise Sauce:
2T butter (organic & unsalted)
1 beaten egg yolk
1 tsp water
1 tsp freshly squeezed lemon juice
1/2 tsp Sriracha (hot sauce)
1/3 cup lump crab meat