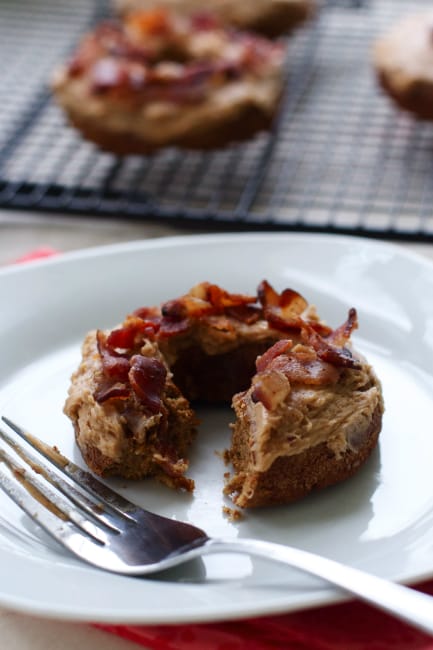 Ingredients
1/2 cup coconut flour
1/2 teaspoon baking soda
1/4 cup date sugar/coconut sugar/maple sugar
2 eggs
2 tablespoons pure maple syrup
1/2 teaspoon pure maple extract
2 tablespoons applesauce
1/2 cup coconut milk
6 tablespoons coconut oil at room temperature
1 tablespoon pure maple syrup, 1/4 teaspoon pure maple extract, 1/2 teaspoon cinnamon, 4 pieces cooked bacon
Directions
Preheat the oven to 350 degrees. Coat a donut pan with butter or cooking spray. In a medium bowl, mix the coconut flour, baking soda and sugar. Make sure there are no lumps (break the lumps up with your fingers if you need to).
In another bowl, whisk eggs, maple syrup, maple extract, applesauce and milk. Add to the coconut flour mixture and mix until thick and smooth.
Spoon the batter into a piping bag and pipe the batter into the donut pan (You can spoon it in, but it will be messy- the piping bag makes it really easy to fill the pan). Bake the donuts for 25-30 minutes or until a toothpick comes out clean. Let cool on a wire rack.
While the donuts are cooling, make the maple buttercream. In a stand mixer, combine the butter, maple syrup, maple extract and cinnamon until well combined. When the donuts are completely cool, spread on the buttercream and top with bacon. Keep in an airtight container- the donuts are best eaten within a day or two.