Mexican Chicken Mole with Tortilla Wraps
The original, traditional version of this classic Mexican dish has an ingredient list as long as your arm. This version is a delicious shortcut, but still contains the two absolutely essential mole ingredients: chocolate and chilli.
For the tortillas, we used an arrowroot based recipe from Stupid Easy Paleo, which turned out really well (and is super tasty!). There are many alternative recipes you can use as well, have a look around for what suits your tastes best.
The small skillet is a must, as you want to get a thin layer on the base of the pan to cook evenly, which is difficult to do in a larger pan.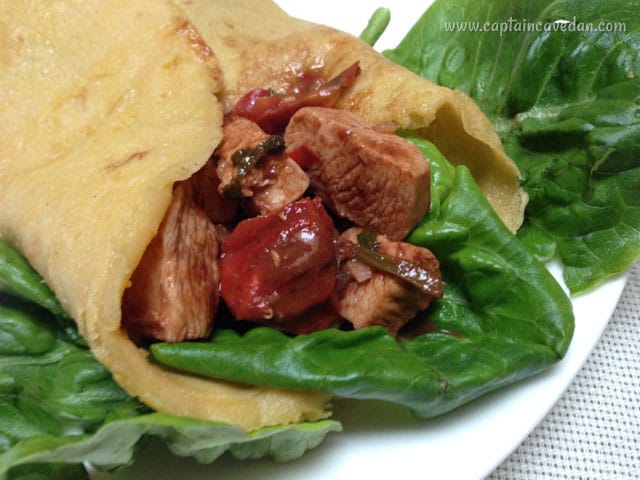 Ingredients
5 garlic cloves
2 chilies (or 4 tsp of minced chili)
1/4 teaspoon each of oregano and cumin seeds
2 tablespoons chopped fresh coriander – leaf and stalk
2 tablespoons chopped fresh basil
3 tablespoons olive oil
1 can chopped tomatoes (approx 400g)
1 cup (250 ml) chicken stock
50 g bittersweet, dark chocolate (we use 2 Whittakers Dark Ghana sante bars)
1 large onion, chopped
2 rashers bacon, diced
3 chicken breasts - boneless and skinned - cubed
1/2 tsp salt and 1/4 tsp black pepper
TORTILLA INGREDIENTS
2 eggs
1 teaspoon melted butter
1 Tablespoon water
1/8 teaspoon baking soda
1/4 cup arrowroot powder
1 teaspoon coconut flour
Directions
Heat 1 tablespoon of oil in a large saucepan over medium-high heat and add the garlic cloves, skin and all. Toast these for 10 minutes until the skins begin to blacken in places and the garlic has begun to soften. Remove from the heat.
In a food processor, blend the chilli, basil, oregano, cumin seeds and coriander and finally add the oil and toasted garlic from the saucepan. Blend together and if there are any large garlic skins that are easy to pick out then do so, otherwise ignore them.
Heat 2 tablespoons of oil in the saucepan and cook the onions on a medium heat until they are softened. Increase the heat and add the diced bacon, the blended spices and cook for 3-5 minutes until the onions begin to brown and the spices give up their aromas. Add the cinnamon stick, tomatoes and chicken stock. Cook the sauce on a vigorous simmer for 10 minutes until it thickens.
Add the chocolate, cubed chicken breast, salt and pepper and bring to a simmer and cook for a further 20 minutes. Before serving check seasoning and add additional salt, pepper or chilli as desired.
Serve with cauliflower rice, salsa, lettuce and warm tortillas.
TORTILLA METHOD
Crack the eggs into a medium-sized bowl and whisk in the melted butter and water.
Add the dry ingredients—baking soda, arrowroot, coconut flour and salt—and beat well to combine.
In a small (8″) skillet over medium heat, pour in about 1/3 of the batter and immediately roll it around to evenly coat the bottom. The tortilla should start to pull away from the edges as it cooks.
Cook for around 1 minute on each side (longer if you want them slightly browned).