Mexican (Spanish) \"Rice\"
I cooked this in my non-stick wok but a large saute pan will work just fine. Heat your pan over medium-high heat, add olive oil, onion, and minced garlic. Saute for 5 minutes.
Add riced cauliflower, cumin, chili powder and garlic salt – Let cook 5-8 minutes – Stir every minute or so.
Add chicken stock and tomatoes. Use a rubber spatula to break up the tomatoes. Reduce heat to low, cover, and allow to simmer 30-40 minutes or until all the liquid has reduced.
SERVE AND ENJOY!!
http://peaceloveandlowcarb.blogspot.com/2012/06/mexican-spanish-rice.html
[ingredients]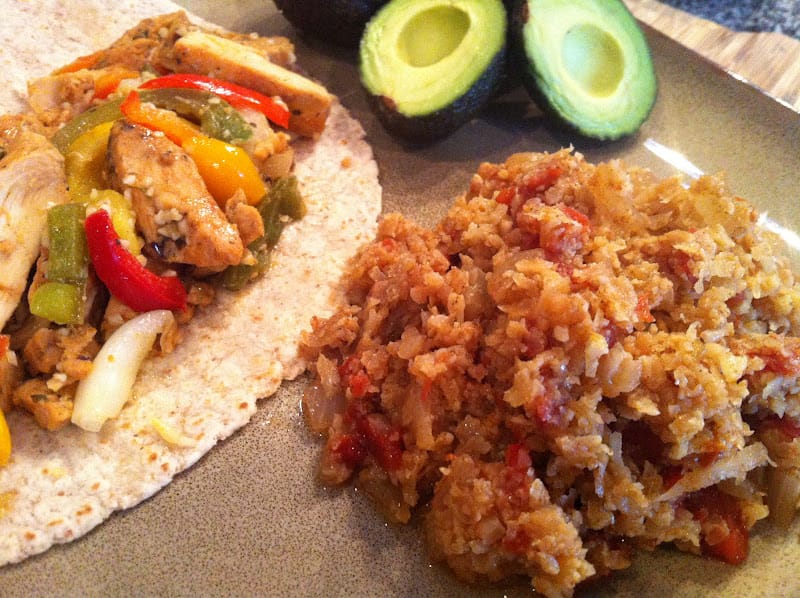 Ingredients
3 Cups Cauliflower - Riced - I use my cheese grater to rice the cauliflower
2 Cups Chicken Stock
1/2 Can Stewed Tomatoes with Mexican Seasoning
1/2 Cup Onion - Diced
1/4 Cup Olive Oil
2 Tbs. Garlic - Minced
2 Tbs. Cumin
2 tsp. Chili Powder
1 tsp. Garlic Salt