Mini Primal Pizzas: Bacon, Cheese & Herb
PROCESS:
1. Preheat oven to 375F.
2. In a bowl, mix eggs, coconut flour, coconut milk, herbs, and spices with a hand mixer.
3. In a pan, cook bacon until crispy. Set aside on a plate to cool. Save the bacon fat for use later in the recipe!
4. In a small saucepan, melt butter, and then add to coconut flour mixture. Mix with hand mixer.
5. Chop cooled bacon into small pieces, and fold into pizza dough using a spatula.
6. Line baking sheets with unbleached parchment paper, and using a spoon, scoop portions of pizza dough onto baking sheets. Ensure you leave plenty of space in between portions, as this dough will spread. Flatten down into a general circular mini pizza shape prior to placing in the oven.
7. Bake for 20 min.
8. Remove from oven, and brush with bacon fat. Allow to absorb.
9. Add approx 1 tablespoon of tomato/pizza sauce to each pizza and spread. Add goat mozzarella and ensure it covers sauce in a thin layer.
10. Bake for another 10 min, remove, and serve.
[ingredients]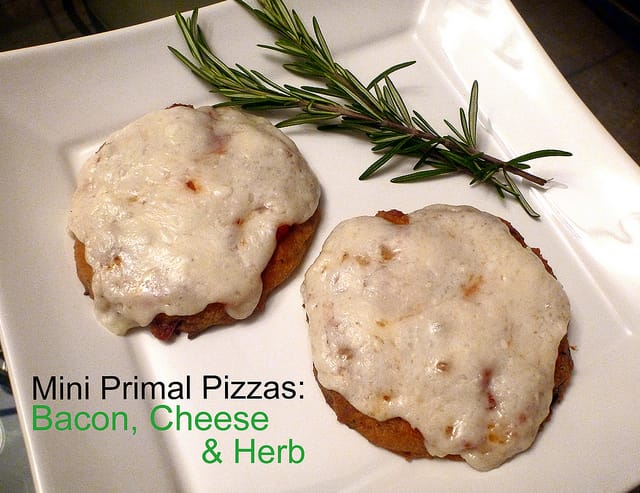 Ingredients
1/3 cup coconut flour
3/4 cup coconut milk (BPA free can)
3 eggs (free-range)
2 tbs organic butter
7 pieces Mennonite bacon (save the bacon fat after cooking)
1 garlic clove minced, 2 tsp fresh rosemary minced, 1.5 tbs fresh thyme minced
1/2 tsp of each: black pepper, baking soda, sea salt
8 oz organic quality tomato or pizza sauce
7 oz goat mozzarella